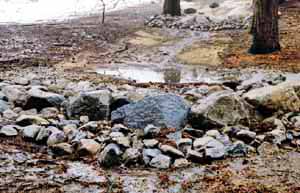 NPS photo by Athena Demetry
Loosened soils were protected with wood chip mulch, soil retention blanket, or native litter and duff, which was salvaged prior to demolition if present or was collected from surrounding areas for restoration of linear features such as roads and trails.
During human occupancy of Giant Forest, erosion gullies had developed where roads, trails, and parking lots concentrated runoff from rain storms or snow melt. In most sites, the removal of the hardened asphalt surface and restoration of the landform was sufficient to correct the erosion problem. In sites where the erosion gully would continue to receive concentrated drainage, rock check dams were installed to slow the flow of water and reduce its ability to erode the soil.
All landform and soil restoration work described in this section was accomplished by contractors.