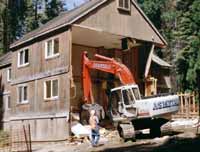 NPS photo by Athena Demetry
The first challenge of restoring Giant Forest was to demolish and remove infrastructure without causing further damage to vegetation and soils. To achieve this goal economically and within the targeted time frame, the demolition was accomplished by contractors using heavy equipment such as excavators, loaders, and backhoes, or smaller equipment or hand tools in sensitive areas. Over 282 buildings, 24 acres of asphalt, dozens of manholes, a sewage treatment plant and spray field, and all exposed sewer and water pipe, aerial telephone and electric lines, and underground propane and fuel tanks have been removed. Ecological restoration has been conducted on 231 acres. See our before-after section to see the extent of demolition.
The demolition was phased over five major projects, spanning the years 1997 to 2005. Phase 200 M (1997-1999) removed all buildings and infrastructure from the Giant Forest Lodge, and buildings in Pinewood, Highlands, and Firwood. Phase 200 O (1999) removed all buildings and infrastructure from Lower Kaweah, Upper Kaweah, and the Market area. Phase 200 P (2000) removed the asphalt roads and remaining infrastructure from the Sugar Pine, Sunset, Paradise, Highlands, and Firwood campgrounds, which were abandoned in the 1960s. Phase 200 Q (2001-2005) removed the Sherman Tree entrance road and parking lot and replaced them with a parking lot outside of the sequoia grove and a trail leading to the tree. Phase 200 R (2005) removed roads and the final parking lot in the Lodge area.