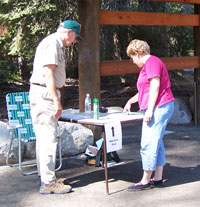 NPS Photo
Sequoia and Kings Canyon National parks offer a variety of volunteer opportunities for individuals and organized groups. While there are a handful of recurring positions each year, new positions are added regularly. To view current volunteer opportunities, please visit www.volunteer.gov/gov and search for keywords "Sequoia and Kings Canyon National Parks".
RECURRING VOLUNTEER POSITIONS
Learn more about some of the parks' recurring positions below or visit www.volunteer.gov/gov for a listing of all current volunteer opportunities.
Campground Hosts
Campground hosts assist visitors with campground operations while stationed at various campgrounds in the park. Volunteers may register campers and help them find campsites, walk campground loops to inform and educate visitors, provide information about the park, work with Park Service employees in handling campground money and perform minor maintenance. Campground host positions are removed from the volunteer opportunity listings at www.volunteer.gov/gov once they are filled for the season.

River Rovers
Foothills River Rovers promote river safety and help visitors enjoy the natural wonders of Sequoia National Park. Volunteers may patrol river access points, staff information booths, provide information to visitors and report emergencies and illegal or improper activity.

Visitor Center Assistants
Opportunities for Visitor Center Assistants may be available at the Foothills, Lodgepole and Giant Forest visitor centers. Volunteers assist visitor center staff by sharing information with park visitors, answering the telephone, responding to questions and helping with Sequoia Natural History Association retail sales.
ORGANIZED GROUPS
Organized groups are an integral part of Sequoia and Kings Canyon's Volunteer-In-Parks program. Examples of group volunteer projects include: fence construction, invasive plant species removal, native plant propagation, various maintenance duties such as sanding and painting, trash pickup,nursery/greenhouse care, and weeding. To view all current volunteer opportunities, please visit www.volunteer.gov/gov and search for keywords "Sequoia and Kings Canyon National Parks". For more information on volunteering as an organized group, please contact Tim Barrett (559) 565-4232 or Denise Robertson (559) 565-3132.
INTERNATIONAL VOLUNTEERS
Sequoia and Kings Canyon welcome volunteers from any country in the world (non-citizens cannot be hired into paid Federal positions). If you are a college or university student from another country, work for another country's park agency, or have a background in environmental or cultural related fields, and might be interested in volunteering for the National Park Service visit the National Park Service International Volunteers in Parks.
PARTNER VOLUNTEER ORGANIZATIONS
Student Conservation Association (SCA)
Provides students of all ages in the USA the opportunity to serve and protect national parks, forests and urban communities.

American Conservation Experience (ACE)
Offers volunteer opportunities in environmental and conservation projects in the Western United States.

California Conservation Corps (CCC)
Offers men and women between the ages of 18 to 25 work in environmental conservation, fire protection, land maintenance, and emergency response to natural disasters.