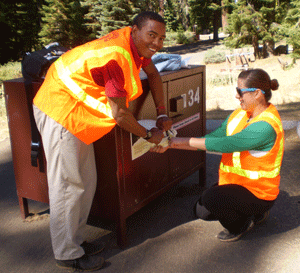 PARTNER VOLUNTEER ORGANIZATIONS
Student Conservation Association (SCA) provides opportunities to serve and protect national parks, forests and urban communities through internships with land management agencies and organizations.
American Conservation Experience (ACE) offers volunteer opportunities in environmental and conservation projects in the Western United States.
Nature Corps engages volunteers in national parks throughout California and Hawaii by coordinating groups of professionals, corporate employees, adults, and students to participate in conservation projects in the parks.
California Conservation Corps (CCC) offers men and women between the ages of 18 to 25 work in environmental conservation, fire protection, land maintenance, and emergency response to natural disasters.
AmeriCorps National Civilian Community Corps (NCCC) offers residential volunteer team-based national service opportunities to women and men, ages 18-24, focused on strengthening communities and developing leaders through direct service in parks and communities.