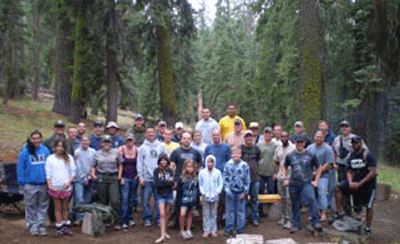 ORGANIZED GROUPS
Organized groups are an integral part of Sequoia and Kings Canyon's Volunteer-In-Parks program. Examples of group volunteer projects include: trail maintenance, invasive plant species removal, native plant propagation and various maintenance duties such as sanding and painting, litter removal, and greenhouse projects.
For more information on volunteering as an organized group, please contact Volunteer Coordinator Tim Barrett at (559) 565-4232.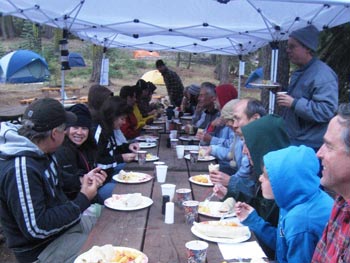 WOLVERTON SERVICE CAMP The Wolverton Service Camp is a rustic group campground dedicated to volunteers and researchers. The camp sits at approximately 7,000 feet elevation within the mixed conifer forest of Sequoia National Park. Summer days are warm and comfortable with cool nights. The camp is equipped with picnic tables, fire rings, porta potties and hand washing stations. The nearby Lodgepole Campground offers public showers, laundry, a post office, a small store, and a visitor center. For additional photos of the camp, see the Wolverton Service Camp gallery.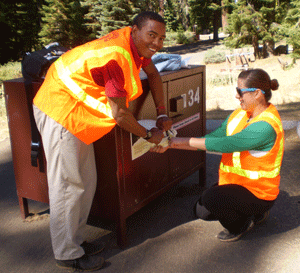 PARTNER VOLUNTEER ORGANIZATIONS
Student Conservation Association (SCA) provides opportunities to serve and protect national parks, forests and urban communities through internships with land management agencies and organizations.
American Conservation Experience (ACE) offers volunteer opportunities in environmental and conservation projects in the Western United States.
Nature Corps engages volunteers in national parks throughout California and Hawaii by coordinating groups of professionals, corporate employees, adults, and students to participate in conservation projects in the parks.
California Conservation Corps (CCC) offers men and women between the ages of 18 to 25 work in environmental conservation, fire protection, land maintenance, and emergency response to natural disasters.
AmeriCorps National Civilian Community Corps (NCCC) offers residential volunteer team-based national service opportunities to women and men, ages 18-24, focused on strengthening communities and developing leaders through direct service in parks and communities.