Guided Tours and Programs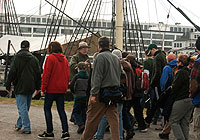 NPS photo
Tours, Films and Programs
Click here for a list of all current tours, schedules and programs in the park. [PDF, Updated May 11, 2015]
Guided Tour Descriptions
Free ranger-led tours and programs are offered year round. Tickets for tours are free, but require a reservation by calling 978-740-1650 or stopping by the Visitor Center on the same day of the tour.
Groups of 10 or more, should email or call 978-740-1662 to make an advance reservation. Visit the For Teachers page for information on our education programs. Salem Maritime also hosts special events in addition to regular programs.

The US Custom House in Salem and the tall ship Friendship of Salem|
Limit: 20 people
Duration: 1 hour
This tour visits the U.S. Custom House, built in 1819 to house the offices of the U.S. Customs Service. During the height of Salem's East Indies trade, the Customs Service in Salem collected millions of dollars of taxes on incoming cargo, providing vital financial support for the new United States government. For three years, this building was the workplace of the famous author Nathaniel Hawthorne. Hawthorne's experiences during his stint in the Custom House inspired his most famous novel, The Scarlet Letter.
Weather permitting, during the fall, winter, and spring the Custom House tour also visits Friendship of Salem, Salem Maritime's replica of a cargo vessel built in Salem in 1797. The tour visits the main deck and 'tween deck of the vessel to learn about the men who sailed all over the world to bring exotic goods back to Salem during the height of the East Indies trade. During the summer, Friendship is open for self-guided tours.
The Narbonne and Derby Houses
Limit: 8 people
Duration: 1 hour
This tour visits the two domestic homes at Salem Maritime. The Narbonne House, built in 1675, was for almost 300 years the home of successful businessmen and their families. The Narbonne House is unfurnished, and contains displays of some of the nearly 150,000 archeological artifacts that were excavated out of the yard. The 1762 Derby House was the first home of Elias Hasket and Elizabeth Crowninshield Derby. It is a beautiful example of a merchant's Georgian home, and is furnished to reflect the Derbys' 20 year-long residence in the house.
Self-Guided Tours and Programs
Audio Tour
Listen to an audio tour and view maps of Salem's historic waterfront.
Walking Tours
View
various self-guided walking tours and brochures.