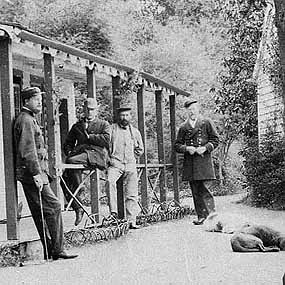 The marines landed on March 23, 1860. They brought along the necessary materials to erect the first building, a commissary (or storehouse) about 40 by 20 feet (which still stands). The camp commander, Captain George Bazalgette, RM, then placed a requisition for "84 tin pannikins, 36 tin plates, 3 'dishes', 10 camp kettles, 18 lanterns, 1 measures set, and a small quantity of stationery."
The command consisted of two subalterns (junior officers), an assistant surgeon and 83 noncommissioned officers and men. After clearing the shore of its thick growth of trees, they erected the commissary and planted a small garden where the formal garden lies today.
Barracks, cooking houses and other vital structures quickly followed, especially after Rear Admiral R. Lambert Baynes visited in June and pronounced the need for extra pay for the men to prepare the camp for winter. By 1866 the camp was at its peak for the enlisted men. One visitor commented: "We may remark here that the neatness, cleanliness and good order observable throughout the entire camp were the subject of general observation."