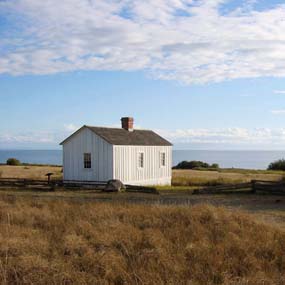 Julia Vouri
Pickett changed locations five days later perhaps in a quest for level ground but more likely because of the British naval guns looking down his throat. It wasn't until the August 10 arrival of reinforcements under command of Lt. Col. Silas Casey that the post found its permanent home. Casey had decided to move after spending two stormy nights at Pickett's second camp.
"We are encamped in rather exposed situation with regard to the wind, being at the entrance of the Straits of Fuca," Casey wrote. "The weather at times is already quite inclement."

On August 22, Casey ordered his growing force (now 450 men) to pull up stakes and relocate to the north slope of the ridge just north of the Hudson's Bay Company barns — once home to the pig that strayed and started the whole mess two months before. Casey ordered large, conical Sibley tents shipped from Fort Steilacoom to the new site which Casey deemed, "a very good position for an entrenched camp." The tents would supplement the clapboard buildings Pickett had already shipped over from Fort Bellingham, among these the hospital, barracks, laundress and officers quarters.
The veteran colonel also ordered Corps of Engineers 2nd Lt.Henry Martyn Robert — later to achieve fame for his Rules of Order — to start work on a earthen fortification on the ridgetop east of the new camp with a commanding view of both strait and bay. Meanwhile, the British riding at anchor in Griffin Bay were nothing short of impressed with the colonel's enterprise.