Place
English Camp Formal Garden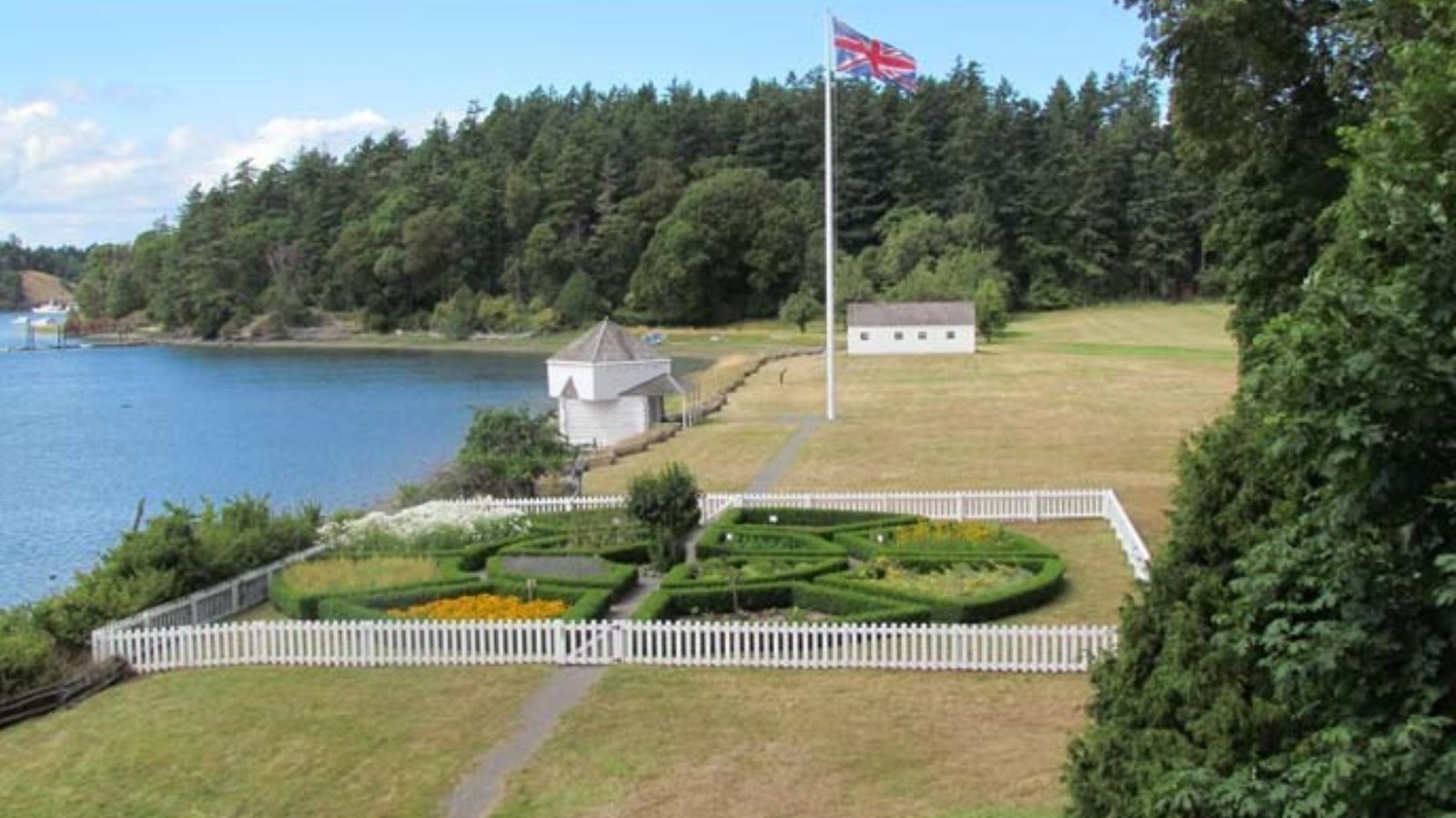 Location:
Friday Harbor, WA
In 1867, Captain William Delacombe, the second commander of English Camp, laid out and ordered the construction of this formal garden at English Camp. Occupying the site of English Camp's original vegetable garden, experts believe Delacombe likely created this garden to please his wife who felt homesick so far away from Great Britain where formal gardens are common. At the same time, Delacombe designed a new residence for himself that was equally picturesque, featuring multiple rose beds, twin verandas, a wide, grassy lawn and multiple outbuildings to service his family's home. Though the Officers' Quarters that Delacombe designed and constructed have since been lost to fire, their pastoral beauty was a striking contrast to the utilitarian
American Camp Officers' Quarters
.
The formal garden was part of an overall emphasis on landscape design and recreational opportunities at English Camp. The Officers' Quarters were spatially separated from the parade ground where enlisted men lived and worked by a terraced hill which was covered in vines to increase its picturesque appeal. English Camp's residents had access to a croquet ground, billiard hall, and library. Officers and enlisted men dined in separate messes with separate menus and officers such as Delacombe were able to bring their families with them to English Camp.
After the English left San Juan Island, the
Crook Family
 became owners of English Camp's grounds and buildings. They removed the formal garden, transforming it into a combination of orchard and grazing land. After the establishment of San Juan Island National Historical Park, park staff and volunteers worked to create a new formal garden that roughly approximated the original. Created in 1972 for the 100th anniversary of the end of the joint occupation of San Juan Island, this garden was not a historically accurate reconstruction in terms of plantings but it matched the shape of the original garden, giving visitors a better idea of what the landscape looked like in the past.
In 1982, landscape architect Carol Meadowcroft created a report that provided a far deeper understanding of what the English Camp garden likely looked like and what grew in it. Meadowcroft examined the broader history of English gardening, identifying the English Camp garden as an example of the gardenesque style which combined geometric patterns with naturalistic plant arrangement. Meadowcroft showed that garden beds consisted of single types of brightly colored plants arranged in a circular design separated by footpaths. Taller species were planted in inner beds and lower species in outer beds with box hedges separating each bed. Meadowcroft also scoured contemporary nursery advertisements to discover which domestic plants were common in this time and place. Her research has guided the current shape, design, and plantings in this formal garden.
In this reconstructed garden you can partake what one American visitor called "the singular beauty of the scenery" of English Camp. Nearby, you can stop by the
English Camp Barracks
 where you can talk with a ranger in our visitor center, view exhibits, or watch our site film. If you'd like to go for a hike, the nearby
Bell Point Trailhead
 offers a level, short hike through a waterfront forest and the
Young Hill Trailhead
[link] offers a steep climb to a beautiful viewpoint and visit the English Camp cemetery where 7 of English Camp's residents are buried.
Last updated: February 28, 2022