Flowage Level Drawdown North Of Taylors Falls/St. Croix Falls

Beginning October 2, Xcel Energy will be lowering the level of the flowage upstream from Taylors Falls/St. Croix Falls by up to 6 feet. This is to allow for repair to flashboards on the dam that were damaged by high water in September.
Directions
Located in the northwest corner of Wisconsin as well as along the Wisconsin/Minnesota border, the St. Croix National Scenic Riverway is 255 miles of natural beauty with many access points to visit and no particular "right place" to begin your Riverway adventure. However, there are two Park visitor centers with friendly park rangers and exhibits to help orient you to the river; the headquarters in St. Croix Falls and the Namekagon District office in Trego.
Park Headquarters is located in St. Croix Falls, Wisconsin at the corner of Hamilton and Massachusetts off of WI Hwy 87. 401 North Hamilton Street, St. Croix Falls, WI 54024
The Namekagon Visitor Center is located in Trego, Wisconsin just east on US Highway 63 from the intersection with US Highway 53
Getting Here
By Car: For further orientation, Minnesota Hwy 95 and Wisconsin Hwy 35 parallel the lower stretches of the river. Wisconsin Hwy 63 the upper stretches. There are river crossings at I-94, Hwy 8, Hwy 70,and Hwy 77/48.
Public Transportation: Taxi or bus to Stillwater, MN from Minneapolis/St. Paul MN. There is no public transportation along the Riverway.
Plane: Minneapolis/St. Paul or Duluth, Minnesota are the nearest commercial airports. Car rentals are available at the airports.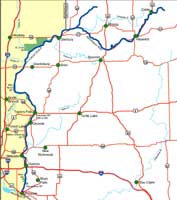 Maps
Maps come in large or small scale, to help you get to the park and plan your visit both on and off the water. more...


Did You Know?

Water scorpions use their tails or siphons as a a "snorkel" thrusting it up through the surface film on the water to the air above. Their legs are not much use in swimming, so most water scorpions spend life near the shoreline.