Pillar Island Restoration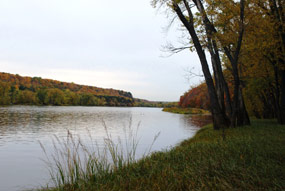 NPS
A Demonstration Project:
There's something new going on in the Stillwater Islands stretch of the St. Croix River. This area, located between the Soo Line High Bridge and north Stillwater, is one of the most scenic of the Lower St. Croix National Scenic Riverway.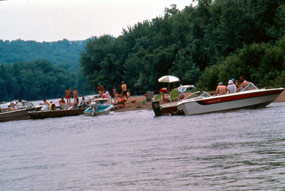 NPS
House boats, pontoons, cabin cruisers, runabouts, and fishing boats are all common in the Stillwater Islands. The islands provide a great place to picnic, swim, camp and just hang-out near the water. Water has always been a source of enjoyment and inspiration. Anyone who has had to carry a bucket full also knows that water is very heavy. A bathtub full weighs nearly a ton!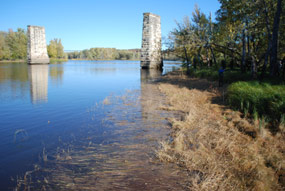 NPS
When in motion, water has great force. It can carry all sorts of things away, from tiny grains of sand to entire trees. Vegetation, like prairie cord grass provides a buffer of protection. Its network of roots hold sand in place.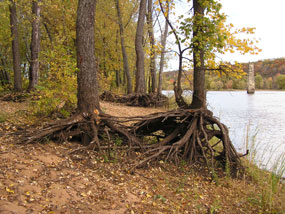 NPS
Some islands though, have lost a lot of vegetation, due to their popularity and heavy visitation. These islands or parts of islands are vulnerable to the erosive force of moving water, whether from floods or boat wakes. Moving water dislodges bare sand and threatens the island's stability.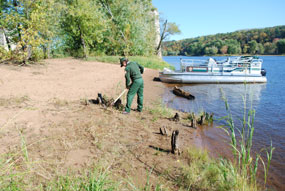 NPS
Because the islands are so well loved and are an important natural feature of the Riverway, the NPS is learning how to restore and protect them for the future. A demonstration project has been established on Pillar Island. The site is small, about 80 feet in length and 30 feet wide (link to aerial image, pdf 239k ). We do not expect the project to displace any visitors as boats cannot be landed directly in front of the site. That is because dead tree stumps stick up at the water's edge.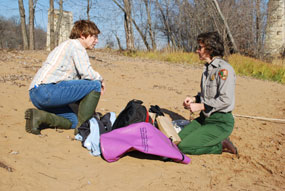 NPS
The NPS has partnered with the Washington County (MN) Conservation District who will bring their expertise in ecological restoration to the project. The strategy is to reestablish native plants to protect the shoreline. People will need to stay off the area while the plants are getting established, so the area will be signed.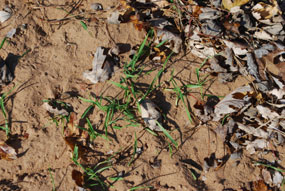 NPS
Restoration activities have already started, but most work will occur in summer 2009. In fall 2008, the NPS planted a cover crop of winter wheat. By early November, the seed had sprouted. Our hope is that the seeds continued to grow under the snow and will provide protection from spring flood waters.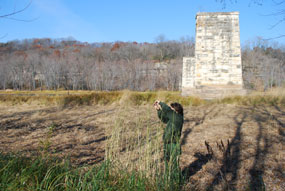 NPS
We also collected native grass and forb seeds from Pillar Island last fall. The seeds are being grown into seedlings to be planted in summer 2009. We hope to have volunteers help us plant and care for the seedlings this summer. If you are interested in helping, please contact our volunteer coordinator by e-mail.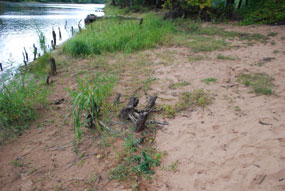 NPS
Updates on the Pillar Island Restoration Project will be posted on this website. Here is the "before photo" taken in September 2008. We are looking forward to the results and to your help in making this project a success!