Unique among National Parks, the San Antonio Missions embody nearly 300 years of history and culture that can not be fully experienced in a single visit. With four separate units, not to mention the park Visitor Center at Mission San José, the Espada acequia system, the San Juan demonstration farm, and Rancho de las Cabras in Floresville, Texas, San Antonio Missions National Historical Park has a variety of things to see and do. Whether you plan to visit just one mission or all four, we hope this information will help you plan your adventure.
We encourage you to explore our website and discover those areas and activities that interest you the most. The site provides both basic information and background studies that can help you plan a successful visit to the San Antonio Missions
Whatever your choice, come prepared! You can download our brochures and plan your trip. Or stop at our Visitor Center where staff can help you decide where to go next. Please keep in mind the average visitor spends between two and four hours at the park.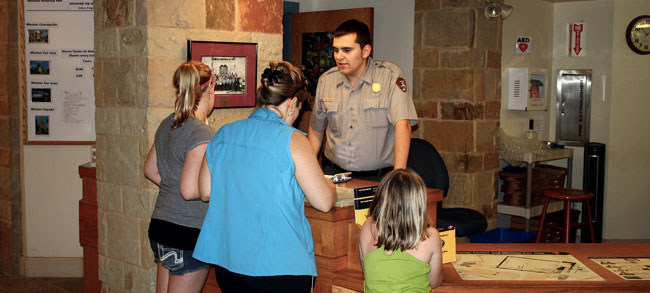 NPS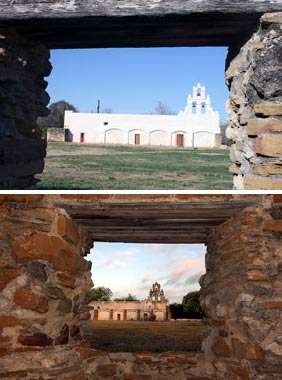 Church Services

The four mission churches within San Antonio Missions National Historical Park are active catholic parishes, and hold regular services. They are open to park visitors during park hours, except for special services, such as weddings and funerals.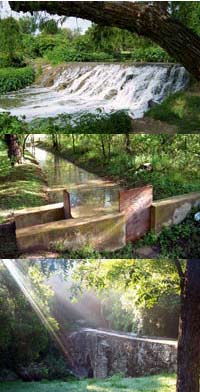 Things To See and Do, Briefly
When visiting San Antonio Missions National Historical Park, plan to spend at least a couple of hours - four hours if you have the time. Free guided tours, movies, and demonstrations are scheduled throughout the week.
Besides the four historic missions and their churches, check out the grist mill at Mission San José, and the 270-year old Espada
acequia
(irrigation system) with its dam and aqueduct. The San Juan Demonstration Farm has recently come on-line, with programming periodically scheduled during the year.
The Spanish missions were established on the frontier and there are still portions of native habitat excellent for birding. A section of the original river can be viewed from the nature trail at Mission San Juan.
Finally, the San Antonio River Authority has completed Mission Riverwalk, which extends from just south of downtown San Antonio to beyond Mission Espada. The 10+ mile trail is perfect for both walkers and bikers interested in a natural view of the river. Portals indicate Mission Riverwalk exits to each mission.