Directions & Transportation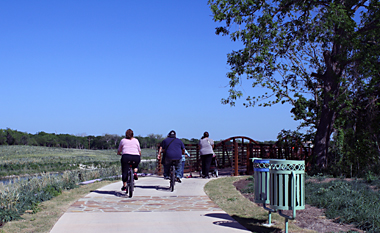 NPS
Getting Around - Auto, Bus, Hike, Bike
Click here to download a transportation map
Roadways connect each site in this mostly urban park. The Mission Trail is a driving route from downtown to Mission Espada, the southernmost mission site in the park. Complete signage is not in place, so ask at each site for directions to the next mission.
The Mission Riverwalk Hike and Bike Trail may temporarily close due to high water. Click here to go to the Mission Riverwalk Hike and Bike Trail page.
Alternative Fuel Vehicles - Do you plan to travel to the park in an alternative fuel vehicle? If so, good for you! Your actions help us reduce greenhouse gas emissions and reduce petroleum use. There is an electric vehicle charging station at Mission San José. Plan your trip with the Alternative Fueling Station Locator from the Department of Energy.
Driving directions to the Visitor Center and Mission San José.
Physical Location of Each Mission
Mission Concepción
807 Mission Road
San Antonio, Texas 78210
Mission San José
6701 san Jose Drive
San Antonio, TX 78214

Mission San Juan
9101 Graf Road
San Antonio, Texas 78214

Mission Espada
10040 Espada Road
San Antonio, Texas 78214
Administrative Headquarters
2202 Roosevelt Avenue
San Antonio, Texas 78210