Warning: Elk Calving Season, Elk Can Be Aggressive

Female (cow) elk are defensive of their newly born calves. As people approach, a cow may charge and/or rear up and lash out with her front legs. For your safety, STAY 500 FEET AWAY from elk, at all times. More »
Davison Road Maintenance begins 7/7/2014. Expect delays.

Beginning July 7, road crews will be grading sections of Davison Road between the hours of 8 am and 4:30 pm. Visitors to Gold Bluffs Beach and Fern Canyon should expect 30 minute delays.
Jedediah Smith Campground sites available by reservation, ONLY.

Due to campground maintenance needs, first-come, first-served sites are currently unavailable at Jedediah Smith Campground. Until further notice, sites are a available by reservation, ONLY. More »
Dance Demonstrations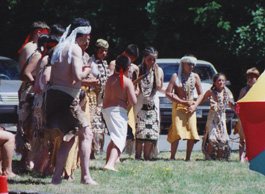 NPS Collection
American Indian dance demonstrations presented by members of the Tolowa and the Yurok tribes are performed in RNSP every summer season.
The Tolowa conduct a renewal dance demonstration at the Jedediah Smith picnic area, off Highway 199 just west of the community of Hiouchi.
Yurok demonstrate the traditional brush dance at the Thomas H. Kuchel Visitor Center, one mile south of Orick on Highway 101.
Each demonstration begins with an introduction explaining the dance's significance to each American Indian culture. Both dance demonstrations are open to the public and free of charge.
Call for dates and times, call (707) 465-7764 or (707) 465-7765.
Did You Know?

The Bald Hills Road serves as a scenic byway to a high prairie landscape dotted with magnificent 300-year-old Oregon white oak trees. This region of the parks offers fields of colorful springtime wildflowers and trail access to several historic ranches. A Roosevelt elk herd could surprise you!