Backcountry Fire Restrictions in Effect (Last updated: 9/10/2014)

Due to "Extreme Fire Danger," fires are currently prohibited in backcountry, including established fire rings at designated backcountry campsites and on Redwood Creek gravel bars. Personal camp stoves are allowed. Call 707-465-7335 for updates.
Dance Demonstrations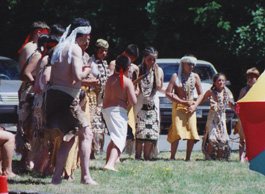 NPS Collection
American Indian dance demonstrations presented by members of the Tolowa and the Yurok tribes are performed in RNSP every summer season.
The Tolowa conduct a renewal dance demonstration at the Jedediah Smith picnic area, off Highway 199 just west of the community of Hiouchi.
Yurok demonstrate the traditional brush dance at the Thomas H. Kuchel Visitor Center, one mile south of Orick on Highway 101.
Each demonstration begins with an introduction explaining the dance's significance to each American Indian culture. Both dance demonstrations are open to the public and free of charge.
Call for dates and times, call (707) 465-7764 or (707) 465-7765.
Did You Know?

A redwood cone is the size of an olive. Each cone contains 60 to 120 seeds. One tree may produce 10 million seeds but only a few will reach maturity. If a seed settles in just the right place it may grow into a tree that will live more than 2,000 years.