Newton B. Drury Scenic Parkway is CLOSED due to hazardous road conditions.

Inclement weather often creates unsafe road conditions. Currently, there is a "glaze" of transparent ice on sections of the road. The Parkway will reopen as soon as State law enforcement officers deem it safe to travel upon.
Most campgrounds remain OPEN. Sites are available on first-come, first-served basis.

Jed Smith, Elk Prairie, Gold Bluffs Beach campgrounds are OPEN. All sites are available on first-come, first-served basis. Mill Creek Campground is CLOSED and will reopen May 16, 2014. More »
Gravel Access Road CLOSED.

Gravel access road to the Tall Trees trailhead is closed until further notice. Tall Trees Trail and Grove are still open. The easiest way to access this area is by hiking the Redwood Creek Trail, which is 8 miles one way.
Dance Demonstrations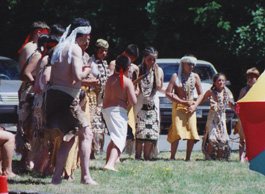 NPS Collection
American Indian dance demonstrations presented by members of the Tolowa and the Yurok tribes are performed in RNSP every summer season.
The Tolowa conduct a renewal dance demonstration at the Jedediah Smith picnic area, off Highway 199 just west of the community of Hiouchi.
Yurok demonstrate the traditional brush dance at the Thomas H. Kuchel Visitor Center, one mile south of Orick on Highway 101.
Each demonstration begins with an introduction explaining the dance's significance to each American Indian culture. Both dance demonstrations are open to the public and free of charge.
Call for dates and times, call (707) 465-7764 or (707) 465-7765.
Did You Know?

The famous drive-through giant sequoia in the Mariposa Grove of Yosemite National Park fell in 1969 under heavy snow. Today there are three coast redwood drive-through trees along Highway 101 in northern California. All are on private property and charge admission.