Whether you prefer to relax in the peaceful solitude of the backcountry, push yourself to hike the 37 miles of trails, or picnic with friends and family, Prince William Forest Park has recreational activities to suit everyone. Please click on the above links to learn more about what the park has to offer or view the slide show to discover some of our most scenic places.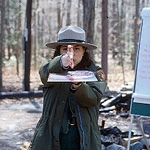 NPS
Orienteering
Did you know that Prince William Forest Park has hosted the International Orienteering Championships? The 60 point orienteering course created here in the 1970s is one of the most extensive in Northern Virginia. You can pick up the maps and extra compasses free of charge at the park visitor center. Go Orienteering!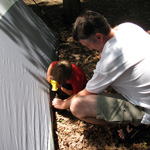 NPS
Cabins & Camping
It's time to pull everyone away from the TV and have some good ole' fashioned family fun by the campfire! Our camping options vary from no frills backcountry camping to rustic cabins in the woods complete with lights and ceiling fans. Perhaps RVing is more your speed? Check out all of the options on our Cabins & Camping Page.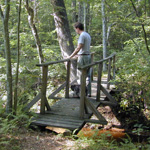 NPS
Hiking
With 37 miles of hiking trails, Prince William Forest Park has the most extensive hiking trail network in Northern Virginia. Where else can you hike an 18 mile loop and get back to Washington, DC for dinner? Visit our online Hiking Guide to click your way through each of our trails. Or you can call or stop by the visitor center to have a Park Ranger guide your way. Whether its a short 1/2 mile loop or a 2 day excursion, Prince William Forest Park has something for everyone.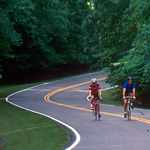 NPS
On and Off-Road Biking
The 12 mile Scenic Drive is ready for you to enoy! With relatively little traffic, and a 25 mph speed limit in most places, the Scenic Drive is a popular biking spot for many people in Northern Virginia. If testing your speed and stamina isn't your thing, you can start out on our bike line which is located at Parking Lot 'D.' The bike lane continues for 3 miles to Oak Ridge Campground Road and is a great place for beginning bikers and experts a like. If off-road biking is more your speed, you can enjoy biking on the park fire roads. Visit our online Biking Guide for more information.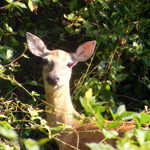 Watching Wildlife
Let the clean forest air fill your lungs as you wait patiently for a bird to look up from its nest. Stop, as you walk through the woods, and enjoy the sight of a startled deer as he looks up at you and then runs away freely. Watching wildlife can be one of the most rewarding, meditative activities. Here at Prince William Forest Park, you do not have to travel far from home to enjoy the wild beauty of mother nature. If you want to learn more about our wildlife, visit our Nature & Science pages for in-depth descriptions.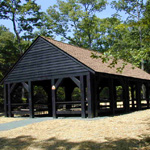 Picnic in the Park
Stop for a picnic lunch at Pine Grove Picnic Area. Over 40 picnic tables and grills dot the picnic area and are there for your use. Telegraph Picnic Pavilion is the perfect spot if you want to reserve a picnic pavilion for a family function or gathering. Visit our Picnic in the Park page to find out more. Just remember - Prince William Forest Park is a trash-free park, so pack out what you pack in.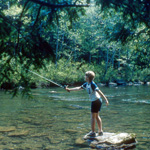 Fishing
Eighteen miles of streams and man-made lakes are open for fishing in Prince William Forest Park. The hike-in, hike-out nature of our fishing areas almost guarantee that you will be the only one at your favorite fishing hole. Enjoy the peacefulness and serenity found no where else in Northern Virginia. The water quality of Quantico Creek is generally healthy and supports numerous fish species and other aquatic life. Go Fishing!