NO FIREWORKS

Reminder to park visitors. Fireworks are prohibited at Prince William Forest Park.
Oak Ridge Campground Site A29 closure

Oak Ridge Campground site A29 will be closed until safety concerns have been mitigated. Please do not use that site until it has been reopened.
Warm Wet Spring = More Ticks

Please check yourself and your pets for ticks continually during and after your visit. Ticks are less prevelent if you stay on trail or in mowed areas. Wearing light colored clothing helps you spot them before the attach.
Firewood

Outside firewood is prohibited in Prince William Forest Park, unless it is certified USDA 'bug free' firewood. Dead and downed wood may be collected from designated areas for use while in the park. Help us protect the forest from invasive species!
Visitor Center Remodel 2014

Over the next several months there will be new changes coming to the Visitor Center. Presently we are remodeling the bookstore area to give it more of a country theme. Next the exibit area will get all new exhibits. Thank you for your patience and support
Chopawamsic Backcountry Area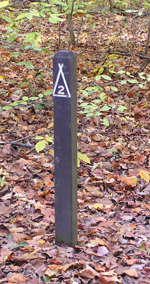 Chopawamsic Backcountry Area
Chopawamsic (chop-ah-wahm-zik) Backcountry Area, which means by the small "divided streams" or "river flats"in Algonquian, is 1,500 acres of backcountry area with eight designated campsites. Campsites are accessible from the two-mile loop trail. A permit is required to gain admittance and can be obtained by completing a permit application at the visitor center between the hours of 9:00 a.m. to 5:00 p.m. daily except Christmas Day, New Year's day and Thanksgiving. This permit must be returned to the visitor center after leaving the backcountry area.
The backcountry permit is free of charge, however an entrance fee of $5 is required to gain admittance into the park. The $5 entrance pass is valid for seven consecutive days. Entrance fees help fund park projects and upkeep of park resources.
Rules and Regulations

Chopawamsic Backcountry has eight designated tent camp sites which are identified by a post marker and are accessible from the circuit trail. Please indicate which tent site you wish to use on the permit application.
Tents must be located within twenty feet of the post marker.
Maximum stay is seven consecutive days or 14 days in one calendar year.
Fires of any kind are strictly prohibited.
Trenching, leveling or digging is not permitted in any campsite.
Bringing straw, hay, pine boughs or any vegetative materials to any campsite is prohibited. All cooking must be done on camp stoves.
Ropes, clotheslines, tent lines and nails are not to be attached to trees or other vegetation. Hammocks are allowed with straps that are at least 1 & 1/2" and are not affixed to a tree less than 6" in diameter.
Swimming and hunting are prohibited.
The following are prohibited in the backcountry: alcohol, fireworks, pets, swimming, use of power tools, hunting and trapping, any weapon (excluding firearms) including BB and pellet guns, paintball and paint guns, and bows and arrows.
Firearms are permitted in accordance with Virginia State Law.
Camping is limited to groups consisting of four people or less per site in the Chopawamsic Backcountry area. Chopawamsic is not designed for groups. Group camping is available at Turkey Run Ridge Campground.
Fishing
Fishing is permitted from the National Park Service' side of the Breckenridge Reservoir with a valid Virginia state fishing license. The use of live bait for fishing is prohibited. To fish from a non-motorized boat or from Quantico Marine Corps Base' side of the reservoir, a Marine Corps base permit is required. Call the base at 703-784-5270 Wednesday through Sunday for information on obtaining a base permit.
Sanitation
When disposing of human waste, there are several options available to you:
Use the "Port-O-Potty" located at the parking lot at the entrance to the backcountry.
Dig a "Cat Hole". The dimensions should be six to eight inches deep and four inches wide. Choose a site at least 200 feet from all water sources and well outside the twenty foot post perimeter. After depositing waste, replace the soil, leaves and other debris to completely cover the waste. The bacteria in the soil and leaves as well as the microorganisms and macroorganisms assist in breaking down the waste.
Pack your waste out with you when you leave. This method is the least damaging to the environment.
Stream and lake water may be unsafe for human consumption. Drinking and cooking water must be carried in or water must be treated by a water filter, by boiling or through the use of iodine tablets.
Please leave your campsite cleaner than how you found it (pack it in, pack it out). All trash, refuse and unused food items must be packed out. Deposit waste water on the ground away from streams and vegetation. Do not bathe in the streams or any other body of water in the backcountry area. Doing so is very damaging to the aquatic plants and animals as well as contributing to lowered water quality.
Help the National Park Service manage the area for everyone's use. Protect the natural environment by respecting wildlife.
For your health and safety, do not try to approach or feed the wildlife. Observe it from a distance and store food in animal-proof containers.
Did You Know?
An owl's eyes are fixed in place because their large size provides no room for muscle. To compensate for this, it can turn its head in almost any direction and angle, including the ability to rotate its head nearly 280 degrees. By comparison, people can only turn their heads a mere 90 degrees!