Visitor Center partial closure

Prince William Forest Park Visitor Center will close three days a week begining December 17th, 2013. The closure will take place on Tuesday, Wednesday and Thursday each week between December 17th, 2013 to March 1st, 2014.
Oak Ridge Campground and Chopawamsic Backcountry Closure

Oak Ridge Campground and Chopawamsic Backcountry area will be closed December 1st, 2013 to February 28th, 2014.
Firewood

Outside firewood is prohibited in Prince William Forest Park, unless it is certified USDA 'bug free' firewood. Dead and downed wood may be collected from designated areas for use while in the park. Help us protect the forest from invasive species!
Operating Hours & Seasons
With cross-country skiing in winter, striking fall foliage in autumn, and great spring and summer recreation spots, Prince William Forest Park is a four-season destination. Despite slight increases in visitation during the summer months and on the weekends, getting away from the crowds is never a problem.
The park is open daily from sunrise to sunset.
Camping/Cabin Seasons
Cabin Camping is for large groups is available in Cabin Camp 5 year round. All other cabins and cabin camps are closed from April to October.
Turkey Run Ridge Group Campground open all year around
Oak Ridge Campground (tents and RVs), Chopawamsic Backcountry Area is closed from December 1st, 2013 to February 28, 2014.
To find out more about reserving cabins or campgrounds, visit our Reservations & Applications page.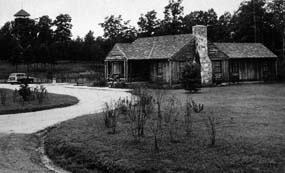 National Park Service
Visitor Center - December 17th 2013 to March 1st, 2014 the Visitor Center will be closed on Tuesdays, Wednesdays and Thursdays.
Friday to Monday 9:00 a.m. to 5:00 p.m.. The visitor center is closed Thanksgiving, Christmas, and New Years holidays.

Location
The visitor center is 1/2 mile from the park entrance.

Special Programs
Ranger led programs and activities are held throughout the year. Contact the visitor center or visit our Schedule of Events page for more information.
Exhibits
The visitor center features exhibits on the park's historic and natural resources. Ask to see 1936 film on the park during your visit!


Did You Know?
At over 15,000 acres, Prince William Forest Park protects the largest example of eastern Piedmont forest ecosystem (one of the most heavily altered ecosystems in North America) in the National Park System.