Fungus Fair at Point Reyes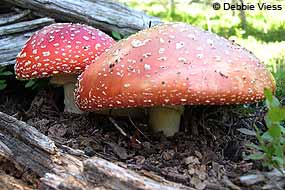 The Eleventh annual Point Reyes National Seashore Fungus Fair is scheduled for Sunday, January 3, 2016.
10 am to 4 pm
The Fungus Fair is an opportunity to learn about the fungi gathered by more than 100 volunteers who are helping to collect, identify and catalog the species of mushrooms at the Point Reyes National Seashore. Amateur mycologists will be on hand to talk about mushrooms, their role in the environment, and more!
For the 2014–2015 winter season, the Bay Area Mycological Society's 10th Annual Point Reyes Fungus Fair was held on Sunday, January 4, 2015. Despite dry weather just before the fair, citizen scientists found approximately 200 species of fungi on Saturday which were then displayed at the Bear Valley Visitor Center on Sunday. The program also included public talks on post-fire fungal ecology, mushroom dyes, and fun and interesting fungi. Since the forays began in 2005, the program has documented over 550 park species records, and several species new to science. This year, four new species: Tricholoma focale, Pleurotus dryinus, Pholiota aurivella, and Rhodocybe aureicystidiata were found in the park for the first time.
During the Tenth Annual Fungus Fair, mushrooms and fungus were on display at the Bear Valley Visitor Center and visitors were invited to attend free lectures presented by area mycologists.
The 2016 Schedule of Speakers has yet to be finalized, but in 2015, the following talks were given:
11 am "Forest Fires and Fungi: Losers, Winners and Strategies" by Dr. Tom Bruns
12:30 pm "The Art and History of Mushroom Dyes" by Dorothy Beebee
2 pm "Zen and the Art of Mushroom Hunting" by Debbie Viess
Visitors are invited to help collect for the fair on local mushroom walks on the day before the Fungus Fair, Saturday, January 2, 2016. Meet at the Bear Valley Visitor Center at 10 am, and to bring their finds to the Red Barn Classroom at 1 pm for identification. Park visitors and local residents are welcome to participate!
Check back here in November or December to download the Eleventh Annual Fungus Fair Flyer. To get a glimpse of the activities and lectures offered at the 2015 Fungus Fair, download the Tenth Annual Fungus Fair Flyer (86 KB PDF)
Go to the Bay Area Mycological Society's (BAMS) web site or contact the Bay Area Mycological Society, David Rust or Ben Becker for more details about the Point Reyes Fungus Fair. For more information about mushrooms at the Point Reyes National Seashore, visit our Mushrooms and other Fungi page. For directions and a map, visit our Directions page.
There are specific legal guidelines for mushroom collecting. Please visit the Collecting section on the Park Regulations page.
Please note: employee housing as well as park administrative, maintenance, operations, and storage facilities, including, but not limited, to access roads, outbuildings, grounds, and docks, are closed to public use.
No mushroom should be eaten unless it can first be positively identified as edible. Learning to identify mushrooms in their many guises takes time, and reliable resources. The best way to learn about mushrooms is through local field guides and mushroom societies. Visit the Bay Area Mycological Society's Mushroom Poisonings page for more information on identifying the three most deadly mushrooms in California.
The Mycoblitz, which has been discontinued, was part of a major multi-year effort to document the fungi at Point Reyes. This event usually occurred at least once every winter and participants searched for mushrooms and fungi in Point Reyes for a few hours, and then reconvened to show what they found and to see what others discovered. The last Mycoblitz was held in 2007.