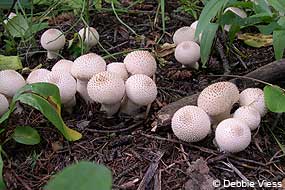 The best time to see mushrooms at Point Reyes National Seashore is starting from two weeks after the first, soaking fall rain, and on into the winter and spring. Fruiting is affected by the amount and frequency of rain (too much can be as bad as too little) as well as the temperature. Many variables affect whether mushrooms are produced, and even experienced collectors can't always predict when and where they will appear.
There are specific legal guidelines for mushroom collecting. Please visit the Collecting section on our Park Regulations page for more information.
Please note: employee housing as well as park administrative, maintenance, operations, and storage facilities, including, but not limited, to access roads, outbuildings, grounds, and docks, are closed to public use.
No mushroom should be eaten unless it can first be positively identified as edible. Learning to identify mushrooms in their many guises takes time, and reliable resources. The best way to learn about mushrooms is through local field guides and mushroom societies. Visit the Bay Area Mycological Society's Mushroom Poisonings page for more information on identifying the three most deadly mushrooms in California.
Text by Debbie Viess
Join us for the annual Point Reyes National Seashore Fungus Fair. The Fungus Fair is an opportunity to learn about the fungi gathered by more than 100 volunteers who are helping to collect, identify, and catalog the species of mushrooms at the Point Reyes National Seashore. Amateur mycologists will be on hand to talk about mushrooms, their role in the environment, and more!
Download the Macrofungi of Point Reyes National Seashore species list (23 KB PDF, Adobe® Acrobat Reader® required).
To learn more about mushrooms in the San Francisco Bay area visit the Bay Area Mycological Society website.