Visitors & GPS Users: Please go to the Visitor Center (Unser at Western Trail)

To find the visitor center please use the coordinates provided in the 'Directions' link. Otherwise you will get lost driving in various neighborhoods that surround the monument. Do not go to Headquarters (6001 Unser Blvd.) it is not designed for visitors. More »
See petroglyphs at Boca Negra & Piedras Marcadas Canyons

Petroglyph viewing is available at Boca Negra and Piedras Marcadas Canyons. Rinconada Canyon is temporarily closed due to trail collapse and unsafe trail conditions. Per Superintendent's Order: T36 CFR 1.5(f).
Outdoor Activities
Hiking Trails
Petroglyph National Monument offers several hiking trails to allow for viewing of natural features and a variety of petroglyphs. These trails range in difficulty from easy to moderate. Trail guides for each trail system are available at the visitor center.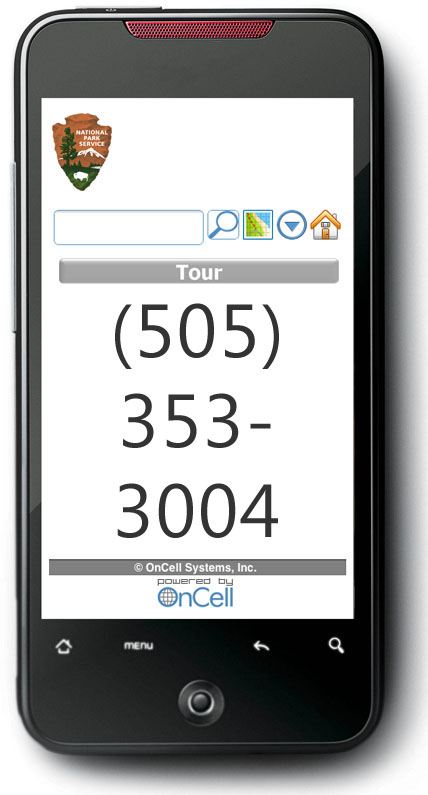 OnCell
OnCell Phone Audio Tours Now Available
Your phone provides a fun way to learn more about Petroglyph National Monument. You can listen to a park ranger give a short narration on various aspects of the monument from geology to the unique human history of the area.
When visiting Petroglyph National Monument you can listen to these narrations at any of the trails and at the visitor center. Just look for the "Park Ranger Audio Tour" signs, call 505.353.3004, and enter the stop number.
There is no additional charge to listen to these narratives. Please be aware that cell phone coverage at Petroglyph National Monument can be spotty and not all providers offer service in the monument.
We are very interested in hearing your feedback about this audio tour and we encourage you to leave us a message about your experience with this program. You can do this by pressing "0" on your cell phone at anytime while listening to any portion of your tour.