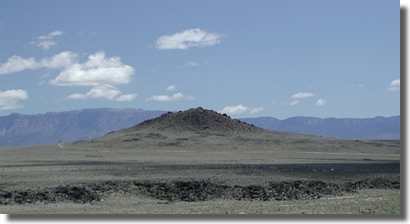 Street name change: Paseo del Volcan has been renamed to Atrisco Vista Boulevard.
Open 9:00 a.m. to 5:00 p.m. daily. May close early due to severe weather.
Degree of Difficulty: Easy to moderately strenuous.
Vault restroom facilities are available at the parking area.
Click for Volcanoes Map
Trail Information
JA Volcano and the Albuquerque Overlook
Distance: 1 mile round trip from parking lot to scenic overlook and back
Degree of difficulty: Easy to moderate
This main trail departs from the parking lot and heads east to a scenic view of the Rio Grande Valley, Albuquerque, and the Sandia Mountains. This trail has three shaded rest areas with benches and trash receptacles.

Black Volcano Loop
Distance: 0.8 mile round trip from scenic overlook back to JA Volcano
Degree of difficulty: Moderate
From the scenic overlook, follow trail north. At 'Y' intersection take left trail around base of Black Volcano. On the north side of Black Volcano you will come to another 'Y'. Going left will take you south toward the main trail which leads back to the parking lot. Going right will take you north toward Vulcan Volcano.

Vulcan Volcano Loop
Distance: 2 miles from Black Volcano to parking lot
Degree of difficulty: Moderately strenuous
Follow trail north of Black Volcano to the largest of the cinder cones. The trail along the eastern base of Vulcan is difficult to find but do not give up. A gradual incline up the east side of Vulcan leads to a level, mini-volcanic valley on Vulcan's north side. Continue on trail and go left (south) when you approach the 'Y' on the northwest side of Vulcan. At next 'Y' go left again for an up-close look at this well preserved cinder cone. Follow trail down, continuing south on old road which leads to the Volcanoes Day Use parking lot.