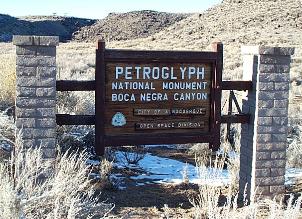 Day Use Area
Open 8:00 am - 5:00 pm daily.
A parking fee of $1 weekdays and $2 weekends is charged by the City of Albuquerque. Valid Federal Lands passes (Annual, Senior, & Access) are honored. Commercial bus fees do apply. Call (505) 873-6620 for commercial rates.
Located off of Unser Boulevard, ¼ mile north of Montaño Road, this canyon provides quick and easy access to three self-guided trails, (Mesa Point, Macaw, and Cliff Base) where you can view 200 petroglyphs. Combined walking time is approximately 1 hour.
Boca Negra Canyon Trail Map