Visitors & GPS Users: Please go to the Visitor Center (Unser at Western Trail)

To find the visitor center please use the coordinates provided in the 'Directions' link. Otherwise you will get lost driving in various neighborhoods that surround the monument. Do not go to Headquarters (6001 Unser Blvd.) it is not designed for visitors. More »
See petroglyphs at Boca Negra & Piedras Marcadas Canyons

Petroglyph viewing is available at Boca Negra and Piedras Marcadas Canyons. Rinconada Canyon is temporarily closed due to trail collapse and unsafe trail conditions. Per Superintendent's Order: T36 CFR 1.5(f).
Rinconada Canyon Trail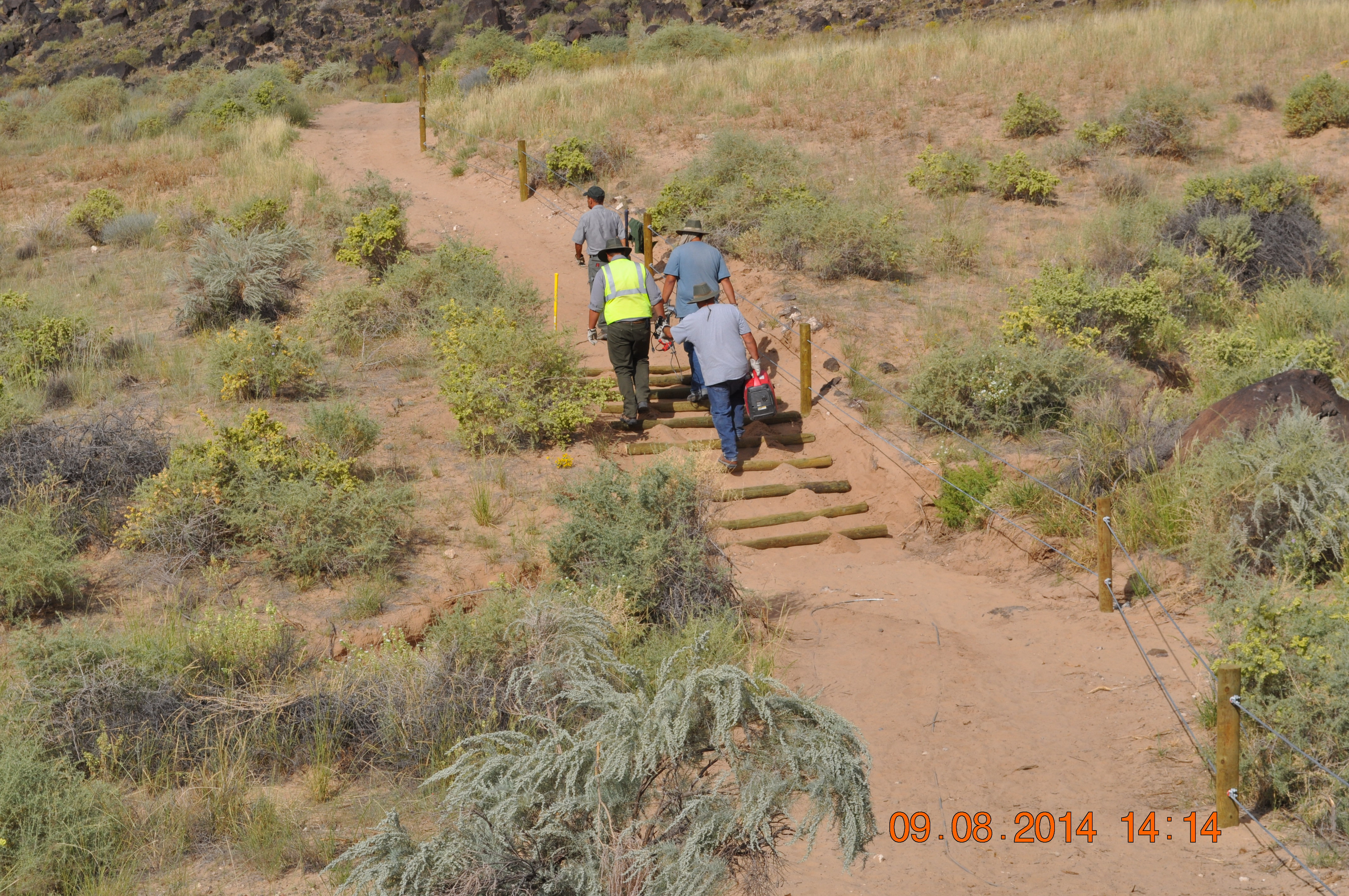 NPS-Petroglyph National Monument
Rinconada Canyon Closure Update: September 11, 2014
The Rinconada Canyon trail rehabilitation project is nearing completion. The trail crew is still constructing sand ladders on steep sections of the trail, installing signs and tightening the post and cable bordering the trail.
Barring impacts from monsoon storms, we anticipate re-opening the trail to the public around
October 1, 2014
.
Rinconada Canyon Trail Map
Rinconada Canyon offers an insight into the geologic, cultural, and natural resources of this region. From the parking lot a sandy path follows the northern escarpment, carrying you over sand dunes. As you walk into the canyon, the sounds and sights of the city fade away and may be replaced with the coo of a mourning dove or a collared lizard sunning itself on a basalt boulder. Here you see prehistoric and historic petroglyphs, rock wall alignments and shelters, and wildlife living in the vegetation growing throughout the canyon.
The geology of the area shows the remnants of volcanic eruptions of 200,000 years ago. The basalt from these flows caps the sandstone of the Santa Fe Formation. As the softer sandstone erodes away, the basalt breaks off and tumbles down the hillside. This action provided the escarpment where the petroglyphs were carved.
The Rinconada Canyon trail follows the northern escarpment, allowing the hiker views of a variety of petroglyphs. The trail is 1.1 miles long to the back of the canyon (2.2 miles roundtrip) and is moderately strenuous.
As with any hiking in the park, or the desert Southwest, carry plenty of water and drink often. Wear a hat, sunscreen, and sturdy walking shoes or boots. Watch out for rattlesnakes which inhabit the canyon.
DO NOT leave valuables or cash in your vehicle. Take them with you.