Accessibility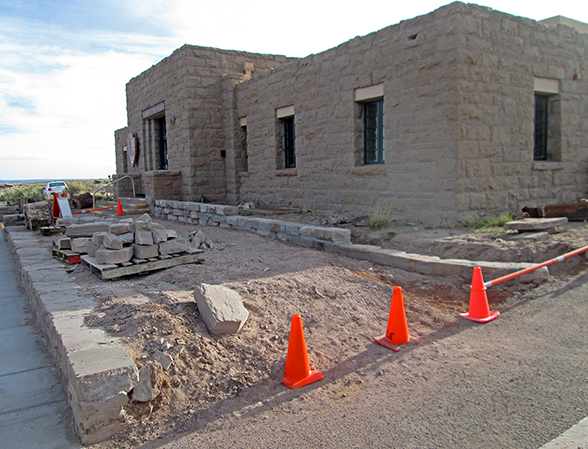 NPS
Petrified Forest National Park is working on making your park more accessible. Many of the facilities are historic, built in the early 20th century, often lacking modern accessibility structures. One project is a new ramp into the Rainbow Forest Museum, originally built in 1931. The staff at the park is working hard on getting this feature finished using native sandstone. We will keep you apprised of changes as they happen during this project!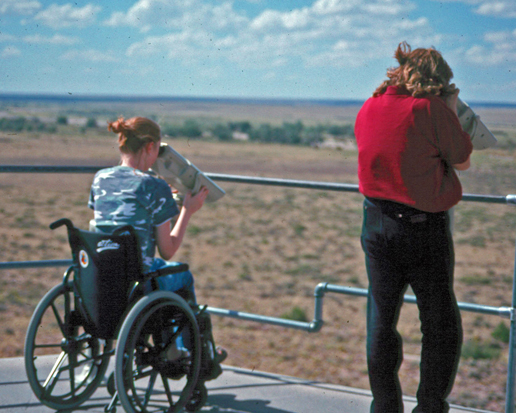 NPS
Welcome to Petrified Forest National Park!
Petrified Forest has much to offer all visitors—limitless views, a fascinating geologic story, some of the cleanest air in the United States, and an enthralling human history. The park also features rugged terrain and historic buildings that may offer challenges to visitors with disabilities. This publication provides information on what to expect when you are using the facilities in the park. It supplements other park publications including the Trip Planner and park brochures. The National Park Service and park concessioners are working to improve access for all visitors.
Many of the facilities in Petrified Forest are historic and built before current accessibility standards were set. The terrain is rugged with narrow trails and steep cliffs. Visitors with mobility or sight challenges may need assistance. Several of the daily Interpretive Ranger Programs are at least partially wheelchair accessible. Inquire at visitor centers for specifics. Protective walls and railings are intermittent.
Please be careful when you are visiting and follow the safety tips below. We want everyone to enjoy their visit and come back to see us!

Be aware that elevations average 5,800 feet within the park. Wear sunscreen to protect yourself from the Arizona sun. The sun's rays are stronger due to the high elevations. Keep hydrated, rest, snack lightly, and avoid alcohol and cigarettes to prevent high altitude sickness. Symptoms include nausea, dizziness, headache, rapid heartbeat, and shortness of breath.

If you are injured or ill while visiting the park, contact a ranger at any visitor facility.

The park number for EMERGENCIES ONLY is (928) 524-9726.
Accessible Opportunities at Rainbow Forest Museum and Painted Desert Visitor Center
·
20 minute Opened Captioned (OC) film shown every half hour ·
Touch tables for hands-on exploration of artifacts, fossils, and other items from the park
Accessible Restrooms Restrooms in these locations offer some accommodations.
The ease of use will vary, and some may require assistance, particularly in historic facilities. ·
Painted Desert Visitor Center ·
Painted Desert Diner
Painted Desert Inn National Historic Landmark ·
Chinde Point picnic area ·
Puerco Pueblo ·
Rainbow Forest Museum ·
Rainbow Forest Curio Shop
Service Animals
Fully-trained service animals are permitted in all park facilities, along park trails, and in the wilderness area. Animals must be on leash and physically restrained at all times.

Camping and Picnicking
Camping is only allowed in the Petrified Forest National Wilderness Area, accessed primarily by cross-country hiking. Car camping is not allowed in the park. Camping is available in the region, including the nearby community of Holbrook, AZ.
The Chinde Point picnic area has some accessible sites, including an accessible restroom. The Rainbow Forest picnic area has limited accessibility.

Environmental Conditions
Petrified Forest National Park is located on the high, dry Colorado Plateau. The terrain is rugged. Visitors with mobility or visual challenges may need assistance. Petrified Forest National Park has variable weather throughout the year. Summers are hot with thunderstorms from July through September. With an average elevation of 5,800 feet, winters can be quite cold and snow is a possibility. Spring and fall can be hot or cold with rapidly changing conditions during the day. Always be prepared!
Trails
Although none of the trails in the park are rated ADA compliant, most can be at least partially explored, depending on the abilities of the visitors.

At this time, none of the developed trails meet ADA requirements. Portions of some trails are accessible with assistance. Please see the descriptions below for more information. Of course it is fine to take any mobility assistance such as a wheelchair out on the trails.
Painted Desert Rim Trail
Length: 1 mile round trip
Trailhead: Tawa Point and Kachina Point
This unpaved trail winds through the rim woodland, a place for chance encounters of many species of plants and animals and spectacular views of the Painted Desert. Even though this trail does not have stairs, the waterbars and dirt-gravel surface may make this trail unsuitable for some with mobility challenges.
Puerco Pueblo
Length: 0.3 mile loop
Trailhead: Puerco Pueblo parking area
At Puerco Pueblo, walk amidst the remains of a hundred room pueblo, occupied by the ancestral Puebloan people over 700 years ago. Petroglyphs can be viewed along part of the trail. This trail is paved and does not have stairs, making it suitable for many with mobility challenges. It may also be negotiated in a wheelchair, the trail over 36" in width with some areas as wide as 60".
Blue Mesa
Length: 1 mile loop, moderately strenuous due to one steep section
Trailhead: Blue Mesa sunshelter
Descending from the mesa, this alternately paved and gravel trail loops among badland hills of bluish bentonite clay and petrified wood. Plant fossils, including delicate ferns, have been found in the sedimentary layers of Blue Mesa. The top portion of this trail may be negotiated by some with mobility challenges, but the trail begins to drop very steeply to its lower portion, mostly over 8% grade. There are also round pebbles that erode onto the trail that make the surface difficult.
Crystal Forest
Length: 0.75 mile loop
Trailhead: Crystal Forest parking area
Despite more than a century of collecting, beautiful crystals still hide in the colorful petrified logs at Crystal Forest. This paved trail may be negotiated by some with mobility challenges, although there are a few steep hills and narrow spots. Wheelchairs may be used to access the shade shelter with assistance, but are not recommended on the loop.
Giant Logs
Length: 0.4 mile loop
Location: Behind Rainbow Forest Museum
* Trail guide available inside Rainbow Forest Museum. Giant Logs features some of the largest and most colorful logs in the park. "Old Faithful", at the top of the trail, is almost ten feet wide! This paved trail has several sets of stairs so only the lower section is available to many with mobility challenges.
Long Logs and Agate House Trails can be combined for a total of 2.6 miles round trip. See below for individual trail descriptions.
Long Logs
Length: 1.6 mile loop
Trailhead: Rainbow Forest Museum parking area
Long Logs is one of the largest concentrations of petrified wood in the park. Explore this ancient log jam at the base of gray badlands. The first half-mile of this trail is paved and suitable for wheelchairs. The loop not recommended for many with mobility challenges due to its narrow width and very rough surface. Stairs up to the shade shelter can be avoided by using the Agate House trail to access the hilltop.
Agate House
Length: 2 miles round trip
Trailhead: Rainbow Forest Museum parking area
Archeologists believe that this small pueblo was occupied for a short time about 700 years ago. Seasonal farmers or traders possibly built Agate House as a temporary home. The first half-mile of this trail is paved and suitable for wheelchairs and strollers. The rest of the trail it is not recommended for many with mobility challenges due to its narrow width and rough surface.