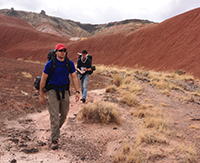 NPS/Tara Harbert
Backcountry camping is allowed within the Petrified Forest National Wilderness Area, requiring, at minimum, a 1 mile hike away from two designated parking spots. A free backcountry permit is available from one of the visitor centers. Permits must be obtained on the same-day as you embark.
Petrified Forest National Park does not have campground facilities, and overnight parking is not allowed. The following are popular camping options outside the park. The list is not all inclusive, and the National Park Service does not endorse any of the following facilities.
Outside the south entrance of the park
, at the junction of the park road and Highway 180, two privately owned gift shops allow overnight parking in their parking lots.
There are private campgrounds throughout Navajo and Apache Counties, in and around Holbrook, Sun Valley, St. Johns, Joseph City, and other communities.