News
NPS Photo
Agency and Park Updates
See the Pecos NHP Museum Collection Online. The museum collection here at the park includes an impressive array of items. Thanks to the ever-more-accessible Web Catalog on the NPS Museum Collections website, it has become possible to search for and view thousands of images and records from National Park museum sites across the country--including the one at Pecos. The site's home page features a "Collection of the Week" and opens the door to a not-often seen side of the resources that NPS protects. Here's a link to part of the Pecos NHP collection. And here are the Forked Lightning Ranch furnishings. ###
View the NPS "No Regrets" Climate Change Action Plan. Taking the stance that current science confirms the planet is warming and the effects are evident here and now, the National Park Service released Climate Change Action Plan 2012-2014. The document is intended to offer guidance to park managers as they plan for and respond to climate change today and in the future. Research in national parks has shown that climate change is melting glaciers, reducing snowfall, raising sea level, shifting vegetation and animal species upslope and northward towards cooler areas, and causing forest dieback.
"Our goal with this plan is to a build flexible, coordinated capacity as we deal with climate change," agency director Jonathan Jarvis said. "The plan lays out 'no-regrets' actions that parks can take now and in preparation for future conditions."
Assateague Island National Seashore and Everglades National Park, for example, are adapting their management approaches to improve the resilience of ecosystems to climate change and avoid costly and unnatural engineering structures. Although the recent super storm that evolved from Hurricane Sandy may not directly be attributable to climate change, damage from the storm accentuates the need to reexamine how we manage lands and resources under changing conditions and foreshadows potential future impacts of harsher storms and rising seas if we do not reduce greenhouse gas emissions.
All national parks are called upon to consider climate change in their planning and management in the action plan, which is organized into three sections:
Context for Action identifies federal and National Park Service specific guidelines that direct and support the implementation of climate change science, adaptation, mitigation, and communications actions.
Identifying Near-Term Priorities outlines criteria and a set of immediate high-priority actions to begin incorporating climate change considerations into all aspects of National Park Service operations.
Preparing for New Challenges and Opportunities describes how park and program managers might prepare now in anticipation of future conditions.
The action plan will be reviewed regularly, with a substantive revision scheduled in 2014.
To view the National Park Service climate change program, click here. ###
Civil War to Civil Rights Trading Cards at Pecos NHP. Trading cards have been popular with kids for generations, from images of sports figures to movie stars. Now, Pecos National Historical Parkis offering five free trading cards featuring photographs and facts pertaining to the Battle of Glorieta Pass.
The cards at Pecos NHP are part of a series of 550 cards available at participating national parks throughout the United States. To "earn" a trading card, kids (and adults) may participate in a ranger-led tour or answer a question about their park visit. "The trading cards are vehicles for telling some 'lesser-known' stories-including the stories of civilians, women, African-Americans, Northern New Mexicans and American Indians," said Superintendent Dennis L. Carruth."They are a great way to engage kids with our history as a nation, both here at Pecos and throughout the United States." The program also provides further incentive to families with children to visit Pecos NHP and the 86 other parks that offer the cards.
Each trading card tells a little-known story, but collectively the cards describe struggles we have endured as a nation to strive for freedom and equality. The Civil War Sesquicentennial and the 50th Anniversary of the Civil Rights Movement provide opportunities to reflect upon our past, celebrate the strides we have made, and look forward with commitment to achieve a more perfect union. ###
Military Pass for Free Access to Public Lands Available at Pecos National Historical Park. As part of the federal Joining Forces Initiative to support our nation's service members and their families, Pecos NHP and other Department of the Interior sites and agencies have made available to active military the new pass for free access to national parks, wildlife refuges, national forests, and other public lands around the nation. Active duty service men and women-Army, Marines, Navy, Air Force, Coast Guard, and activated National Guard and Reserves-may obtain the new military version of the America the Beautiful National Parks and Federal Recreation Lands Annual Pass by coming to the Pecos NHP Visitor Center and showing current, valid military I.D.
The pass will be accepted at National Park Service, U.S. Fish and Wildlife Service, Bureau of Reclamation, Bureau of Land Management, U.S. Forest Service and U.S. Army Corps sites that charge entrance or standard amenity fees. Where there are entrance fees, the pass covers the owner and accompanying passengers in a single, private, non-commercial vehicle at recreation sites that charge per vehicle. At sites where per-person entrance fees are charged, it covers the pass owner and three accompanying adults age 16 and older. There is no entry fee for children 15 and under.
Although the pass is not available to veterans and retirees, many of these individuals are eligible for other discounted passes, such as the Senior Pass, granting lifetime access to U.S. citizens over 62 for $10, and the Access Pass, granting free lifetime access for permanently disabled U.S. citizens.
For more information about the pass, visit http://store.usgs.gov/pass/index.html. For a list of sites where the pass may be obtained, go to http://store.usgs.gov/pass/PassIssuanceList.pdf. However, please note that the Pecos contact number is listed incorrectly on this document; for information call 505-757-7241 or link to our website at http://www.nps.gov/peco/parknews/index.htm. ###
In commemoration of the sesquicentennial of the Civil War, the NPS has developed books to help tell this complex story. Richly illustrated and compellingly written, these publications are valuable tools for those who are interested in learning more:
Hispanics and the Civil War: From Battlefield to Homefront - Hot off the press, this book explores the lives of Hispanic people who were swept into the conflict that divided the nation in 1861. It examines the many and varied motives of the 20,000 men who chose to fight, as well as the countless civilians who lent hearts and hands on the home front. This book helps Hispanic Americans understand that the Civil War is their story, too, and helps all Americans to discover the little known but significant contribution Hispanics made at this moment in US history and to the continuing struggle for equal rights that would follow. It is part of a series on the little-known stories of various ethnic groups in the Civil War.
Slavery: Cause and Catalyst of the Civil War - This NAI award-winning book proposes that a number of issues ignited the Civil War - states' rights, the role of the federal government, preservation of the Union, and the economy - but that all were inextricably bound to the institution of slavery. It follows with a concise explanation of these concepts as well as the African American perspective from the resistance movements to the fight for freedom.
The Civil War Remembered - In addition to the military story, this book, part of the NPS handbook series, includes powerful essays illuminating other perspectives on the Civil War written by eminent historians on an array of topics. Chapters include "The Changing War," "Women Amidst War," "The Civilian Experience," "The War and Westward Expansion," and "The Civil War in American Memory." Edited by Bob Sutton and John Latschar, it is a "must-have" for both park interpreters and visitors who seek to understand the history and legacy of the Civil War.
Developed with the assistance of superintendents, historians, park staff, and Washington and regional program offices throughout the National Park Service and beyond, the first two books were designed by Graphic Works, Inc. of Atlanta, Georgia; the third was designed by The Donning Company Publishers of Virginia Beach, Virginia.
The NPS has made a small supply of the Hispanics and the Civil War: From Battlefield to Homefront available to all Civil War/Civil Rights related parks, at no cost, for outreach to schools and Hispanic organizations.
The three publications retail between $3.95 and $10.95. The books may be obtained at any Eastern National outlet or online at http://www.eparks.com/store/. ###
Science Learning Network. For a series of new National Park Service-centered science learning videos, go to the North Coast Cascades Science Learning Network (SLN) website and begin with "Taking the Pulse of the National Parks." Each movie is approximately four minutes long. Students will discover how park scientists preserve park ecological health and historical riches; see a glimpse of daily fieldwork; and find information about glaciers, intertidal zones and wind-swept prairies. ###
NPS New Mexico web page. The work of the National Park Service touches almost every county in the country-regardless of proximity to a national park. Communities invite NPS to provide expertise and grants, review tax credit projects, and make surplus federal land available for parks and recreation facilities. The goal of the new web pages is to tell what NPS does in 394 parks and in national programs that benefit communities. Only those who know about the agency's work can benefit from it-so, according to NPS Director Jon Jarvis, "we are building relevance both inside park boundaries and in neighborhoods across the country." To access the New Mexico site, please click here. ###


Did You Know?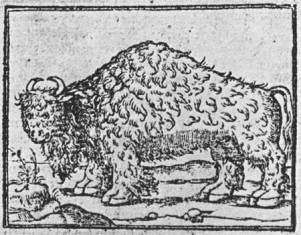 This bison portrait, drawn in 1554, comes from the Lopez de Gomara history. The Spanish were struck by the size and power of the animals. Much later, on the Santa Fe Trail, bison were at first a major point of interest to travelers and soon became a commodity (prized for their hides) and were slaughtered by the thousands.