News
NPS
Agency and Park Updates
Fossilized Footprints Meet Modern Technology in New Mexico. An interagency team of scientists and technical specialists joined together recently in an effort to document fragile and ephemeral fossilized footprints by using remote imaging technology.
The area of study includes a portion of a Late Pleistocene megatracksite within and around White Sands National Monument. Thousands of "Ice Age" fossil vertebrate tracks and track ways that date back approximately 20,000 years have been documented within the White Sands megatracksite. The trace fossil assemblage is dominated by mammoth footprints along with associated camel-like and large and small carnivore tracks. These fossil tracks are preserved in soft sediments that are fragile, ephemeral, and weather rapidly once exposed.
Monitoring fossil tracks preserved within the monument continuously reveals new fossil track occurrences, as well as documents the rapid deterioration of previously recorded tracks. Traditional ground level monitoring and photography that captures high resolution imagery for remote sensing and analysis of fossil trackways requires close proximity that results in ground disturbance and leads to the accumulation of modern human footprint impressions in the soft sediments near the fossil tracks. This potentially leads to overprinting of fossil tracks and damaging some tracks not initially identified by the photographer on the ground.

To document the large number and diversity of fragile fossil tracks preserved over such an extensive geographic area, an interagency team came together to support this project. Paleontologists, resource managers and aviation specialists from the NPS, BLM, USGS and the State of New Mexico worked with the staff at White Sands National Monument in a multi-month project planning effort to support the paleontological field work.
The Department of Defense provided high resolution satellite imagery for the area of the monument encompassing the megatracksite and authorized the BLM flight crew to fly an unmanned aircraft system – specifically, the RQ-16 Tarantula-Hawk (T-Hawk) pictured above – in the DOD restricted airspace over the park.
Several manuscripts will describe these important fossil tracks and the technology and methodologies used in their documentation. The monument staff will roll the new findings into comprehensive interpretive planning, media development, wayside exhibits, and hands-on activities. ###
Digital Access Provided to Historical Panoramic Photographs from National Park Service Lookouts. History enthusiasts, the tech savvy, and national park fans will all enjoy a new section that has been added to the National Park Service Fire and Aviation website that explores a little-known NPS story. "Panoramic Photographs from NPS Lookouts" focuses on an enterprise that began more than 75 years ago through a photography project from lookout points at 200 locations across the country for the purpose of map-making for wildfire detection. There has been recent recognition of the importance of these photographs because, among other things, they can be compared with present-day photographs to understand change over time. For insight into interpreting the photos, click here. ###

132 Bald Eagles Spotted Around Lakes Mead and Mohave During Survey. Volunteers and biologists discovered a decrease from 161 bald eagles counted in the last survey, but were not surprised by the outcome due to a mild winter and the West Nile virus outbreak in late 2013. Although the number of eagles counted has decreased, the park staff was generally pleased as this was the fifth highest count since 1995. Bald eagles migrate from the north and can normally be spotted at Lake Mead NRA from late November to mid-March. Click here for photographs from the count. ###
National Natural Landmarks Photo Winners. A striking photograph of American Lotus at dawn in the Great Plains was the top winner in the 2013 National Natural Landmarks Program Photo Contest. Kenneth M. Highfill of Lawrence, Kansas captured the image at the Baker University Wetlands, designated a National Natural Landmark in 1969 as an example of undisturbed wetland prairie. More than 260 species of birds and more than 430 species of plants have been recorded at the site, including the American Lotus flowers captured in Highfill's winning photograph.
"These stunning photographs highlight the beauty and variety of our nation's natural landscape," said National Park Service Director Jonathan B. Jarvis. "They celebrate the great diversity, significance and beauty of our nation's natural history, and underscore the importance of resource preservation by our partners across the country."
To view the 13 winning photographs from the contest, please click here. ###
NPS a Troubled Agency, Says Republican Senator's Report. Poor oversight by Congress over the National Park Service has allowed the agency to become bloated and out of touch, according to a 208-page report from the office of Sen. Tom Coburn (R-OK ) titled "Parked! How Congress' Misplaced Priorities Are Trashing Our National Treasures." The chief criticism in the report is that the agency spends considerably more on administration and overhead than on the parks themselves.

Those who oppose this stance point out that the difficulties cited in the report completely lack context and knowledge of complexities on the ground. Report critics also note that the NPS budget is a tiny (and declining) part of the federal budget that hasn't even kept pace with inflation. For example, current funding for the agency is 13% below where it was three years ago in today's dollars. The Coalition of NPS Retirees issued a statement noting that what is truly lacking is strong bipartisan support for funding of national parks to preserve them for current and future generations.
Using the report's "subsidy per visitor" statistic (obtained by dividing the fiscal year 2012 annual budget for a park unit by the number of visitors for that park in 2012), Pecos National Historical Park's subsidy is $49.09; sister park Fort Union NM's subsidy is $133.52. For comparison, Great Smoky Mountains NP's subsidy is $1.97 and Canyonlands NP's is $13.62. The report is available online on the Senator's website at Parked! ###


Number of Yellowstone Bison Increases Slightly. The bison herd at Yellowstone National Park is healthy and productive--so much so that it's approaching the peak estimate of 5,000 animals made back in 2005.
During their annual summer aerial bison count, park biologists estimated the Northern herd contained 3,200 animals and the Central herd numbered 1,400 for a total park population of 4,600 animals. There were about 700 calves-of-the-year observed in a June aerial survey, a park release said.
Observations in 2013 represented an increase of 8.75 percent over last year's count, the park noted. The observed rate of population change this past year is within the natural range of expectation for wild bison. This population estimate is used to inform adaptive management strategies under the Interagency Bison Management Plan (IBMP). The IBMP is a cooperative plan designed to conserve a viable, wild bison population while minimizing the risk of brucellosis transmission between bison and cattle.
The cooperating agencies operating under the IBMP are the National Park Service, the U.S. Forest Service, the Animal and Plant Health Inspection Service, the Montana Department of Livestock, the Montana Department of Fish, Wildlife and Parks, the InterTribal Buffalo Council, the Confederated Salish Kootenai Tribes, and the Nez Perce Tribe.###
Lightning Safety. In the United States, an average of 54 people a year are killed by lightning, and hundreds more are severely injured--including at national parks, especially when camping or hiking. Here is the NWS page that includes helpful links and tips regarding lightning safety. "When Thunder Roars, Go Indoors." ###
See the Pecos NHP Museum Collection Online. The museum collection here at the park includes an impressive array of items. Thanks to the ever-more-accessible Web Catalog on the NPS Museum Collections website, it has become possible to search for and view thousands of images and records from National Park museum sites across the country--including the one at Pecos. The site's home page features a "Collection of the Week" and opens the door to a not-often seen side of the resources that NPS protects. Here's a link to part of the Pecos NHP collection. And here are the Forked Lightning Ranch furnishings. ###


NPS New Mexico web page. The work of the National Park Service touches almost every county in the country-regardless of proximity to a national park. Communities invite NPS to provide expertise and grants, review tax credit projects, and make surplus federal land available for parks and recreation facilities. The goal of the new web pages is to tell what NPS does in 394 parks and in national programs that benefit communities. Only those who know about the agency's work can benefit from it-so, according to NPS Director Jon Jarvis, "we are building relevance both inside park boundaries and in neighborhoods across the country." To access the New Mexico site, please click here. ###

Civil War to Civil Rights Trading Cards at Pecos NHP. Trading cards have been popular with kids for generations, from images of sports figures to movie stars. Now, Pecos National Historical Parkis offering five free trading cards featuring photographs and facts pertaining to the Battle of Glorieta Pass.
The cards at Pecos NHP are part of a series of 550 cards available at participating national parks throughout the United States. To "earn" a trading card, kids (and adults) may participate in a ranger-led tour or answer a question about their park visit. "The trading cards are vehicles for telling some 'lesser-known' stories-including the stories of civilians, women, African-Americans, Northern New Mexicans and American Indians," said Superintendent Dennis L. Carruth."They are a great way to engage kids with our history as a nation, both here at Pecos and throughout the United States." The program also provides further incentive to families with children to visit Pecos NHP and the 86 other parks that offer the cards.
Each trading card tells a little-known story, but collectively the cards describe struggles we have endured as a nation to strive for freedom and equality. The Civil War Sesquicentennial and the 50th Anniversary of the Civil Rights Movement provide opportunities to reflect upon our past, celebrate the strides we have made, and look forward with commitment to achieve a more perfect union. ###
Military Pass for Free Access to Public Lands Available at Pecos National Historical Park. As part of the federal Joining Forces Initiative to support our nation's service members and their families, Pecos NHP and other Department of the Interior sites and agencies have made available to active military the new pass for free access to national parks, wildlife refuges, national forests, and other public lands around the nation. Active duty service men and women-Army, Marines, Navy, Air Force, Coast Guard, and activated National Guard and Reserves-may obtain the new military version of the America the Beautiful National Parks and Federal Recreation Lands Annual Pass by coming to the Pecos NHP Visitor Center and showing current, valid military I.D.
The pass will be accepted at National Park Service, U.S. Fish and Wildlife Service, Bureau of Reclamation, Bureau of Land Management, U.S. Forest Service and U.S. Army Corps sites that charge entrance or standard amenity fees. Where there are entrance fees, the pass covers the owner and accompanying passengers in a single, private, non-commercial vehicle at recreation sites that charge per vehicle. At sites where per-person entrance fees are charged, it covers the pass owner and three accompanying adults age 16 and older. There is no entry fee for children 15 and under.
Although the pass is not available to veterans and retirees, many of these individuals are eligible for other discounted passes, such as the Senior Pass, granting lifetime access to U.S. citizens over 62 for $10, and the Access Pass, granting free lifetime access for permanently disabled U.S. citizens.
For more information about the pass, visit http://store.usgs.gov/pass/index.html. For a list of sites where the pass may be obtained, go to http://store.usgs.gov/pass/PassIssuanceList.pdf. However, please note that the Pecos contact number is listed incorrectly on this document; for information call 505-757-7241 or link to our website at http://www.nps.gov/peco/parknews/index.htm. ###
Science Learning Network. For a series of new National Park Service-centered science learning videos, go to the North Coast Cascades Science Learning Network (SLN) website and begin with "Taking the Pulse of the National Parks." Each movie is approximately four minutes long. Students will discover how park scientists preserve park ecological health and historical riches; see a glimpse of daily fieldwork; and find information about glaciers, intertidal zones and wind-swept prairies. ###


Did You Know?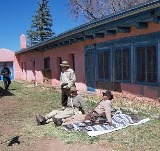 The Civil War Battle of Glorieta Pass was fought at Apache Canyon, Canoncito, and Pigeon's Ranch near Glorieta, NM. The photo depicts Texas Volunteers (living history participants) resting near Kozlowski's trading post at Pecos National Historical Park.