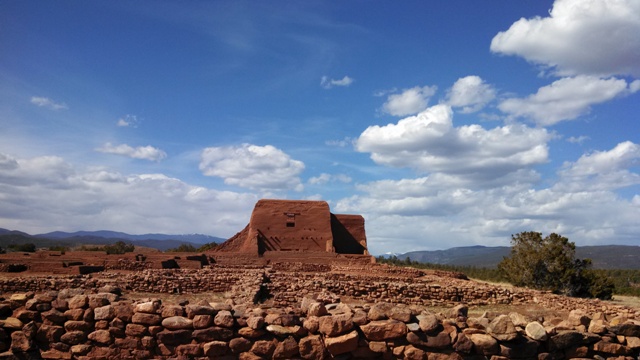 Photo by Roger Clark
Do you have picture or videos of the park that you think might be enjoyed by visitors to our website? If so, please email us with caption and credit information. We'll send you an email if we post your media on our site. Any different views of the church are especially welcome as it has been photographed so much we are seeking new ways of "seeing" it. We look forward to hearing from you!
Special music feature: a video by Granville Automatic filmed here at Pecos NHP. Granville Automatic is Vanessa Olivarez and Elizabeth Elkins, who write and perform songs based on their shared love of history. In this case, they tell a story about the Civil War Battle of Glorieta Pass in New Mexico, which is an important component of Pecos National Historical Park.
Their name comes from the 19th-century typewriter: Vanessa is a collector. They have a quiet, lyrical sound devoted to telling stories about history. Their musical influences include Lyle Lovett, Gram Parsons, Emmylou Harris and Willie Nelson.
For a link to Granville Automatic's website with information about the video ("Glorieta") that they made at Pecos NHP, click here.
For a look at the behind-the-scenes video for Granville Automatic's "Glorieta," please click here. You'll experience not only the beautiful music they make, but also their sense of humor, cleverness, and mutual respect.
For the "Glorieta" music video alone, please click here.
_____________________________________________