NEW OPERATING HOURS AND CLOSURES

Effective 3.10.13 UNTIL FURTHER NOTICE: Visitor Center & parking is CLOSED Wednesdays & Thursdays. Fridays - Tuesdays, the park will be open 10 AM - 4 PM. Star Fort Pond is CLOSED 9 AM Sundays – 9 AM Tuesdays.
Indoor Activities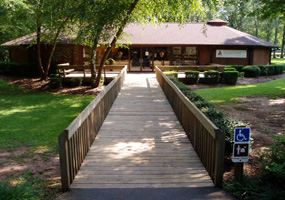 Ninety Six National Historic Site
View our 20 minute live action film, Ninety Six: Crossroads of a Revolution (played on request) before you walk the Historic trail.
Explore our small museum that features some artifacts found at the site and those typical of the era.
Visit our Eastern National Gift Shop to find books about Ninety Six and the Revolutionary War.
You may rent our audiotape tour now on ipod, "Walking Tour of Ninety Six National Historic Site" at no charge. The walking tour audiotape takes approximately 1 to 1.5 hours. The tape & player must be returned to the Visitor center by 5pm.
View our historic oil paintings of the 1781 Battle for Star Fort and Revolutionary War leaders. They are on loan courtesy of the Ninety Six Chamber of Commerce.
Become a Jr Ranger. Kids who complete a few activities in the Jr Ranger booklet receive a certificate and badge.
Get information about local sites, other Revolutionary and historic sites, events, and more at the Visitor Center desk.
Feel free to ask a Ranger any questions you have about the Park, the National Park Service, other historic sites in the state or area, directions, and maps.
Rest in our auditorium when the weather gets too hot or on our front deck in the shade. A water fountain is also located inside the Visitor Center.


Did You Know?

The Loyalist commander at Ninety Six in 1781 was Lt Col. John Harris Cruger.  He was originally from New York City & had under his command 550 men & only one British officer the rest were American born.  You can view the Star Fort where Colonel Cruger commanded at Ninety Six National Historic Site.