Nearby Attractions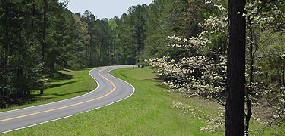 NPS photograph
Mississippi is home to a number of areas operated by the National Park Service. Travel the route of the Natchez Trace Parkway and imagine the experiences of those that have traveled before you. The 444-mile Parkway commemorates an ancient trail that connected southern portions of the Mississippi River to salt licks in today's central Tennessee. Over the centuries, the Choctaw, Chickasaw and other American Indians left their marks on the Trace. The Natchez Trace experienced its heaviest use from 1785 to 1820 by the "Kaintuck" boatmen that floated the Ohio and Miss. rivers to markets in Natchez and New Orleans. They sold their cargo and boats and began the trek back north on foot to Nashville and points beyond. Today, visitors can experience this National Scenic Byway and All-American Road through driving, hiking, biking, horseback riding and camping.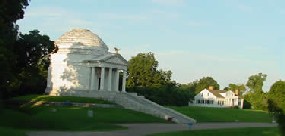 NPS photograph
Vicksburg National Military Park is located approximately 70 miles north of Natchez. The Vicksburg campaign was waged from March 29 to July 4, 1863. It included battles in west-central Mississippi at Port Gibson, Raymond, Jackson, Champion Hill, Big Black River and 47 days of Union siege operations against Confederate forces defending the city of Vicksburg. Located high on the bluffs, Vicksburg was a fortress guarding the Mississippi River. It was known as "The Gibraltar of the Confederacy." Its surrender on July 4, 1863, coupled with the fall of Port Hudson, Louisiana, divided the South, and gave the North undisputed control of the Mississippi River.
Today, the battlefield at Vicksburg is in an excellent state of preservation. It includes 1,325 historic monuments and markers, 20 miles of reconstructed trenches and earthworks, a 16 mile tour road, antebellum home, 144 emplaced cannon, restored Union gunboat-USS Cairo, and the Vicksburg National Cemetery.

NPS Photograph
Located on MS Hwy 370 six miles west of Baldwyn, the one-acre
Brices Crossroads National Battlefield Site
commemorates a battle which had one objective-- make impossible the threat of Confederate General Nathan Bedford Forrest to interfere with General William T. Sherman's railroad supply line from Nashville to Chattanooga during the Atlanta campaign.
Forrest scored a decisive victory over General S.D. Sturgis' Union forces when they met at Brices Cross Roads on June 10, 1864. The Union lost three men to every Southern casualty and General Forrest's troops managed to capture desperately needed supplies, including guns, ammunition, artillery, and wagons.
The battle was considered a major tactical victory for the Confederacy, but did not diminish the effectiveness of Sherman's campaign as supplies continued to flow. The site contains a brochure dispenser, two artillery pieces, a monument to the battle, and an interpretive wayside.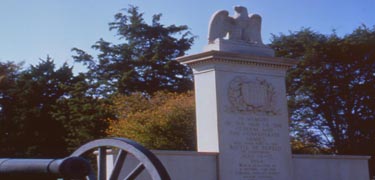 NPS Photograph
In the spring of 1864, Major General William Sherman prepared his army to take Atlanta and subsequently "march to the sea." A primary concern of Sherman's was Major General Nathan Forrest's Confederate corp of mounted infantry roving the mid-South. Sherman ordered several advances from Federally controlled Memphis into north Mississippi for the purpose of keeping Forrest occupied in Mississippi and not behind his line in east Tennessee, cutting communication and supply lines. On July 13-15, 1864, the Battle of Tupelo, now commemorated by the
Tupelo National Battlefield
, was the result of one of those advances by Major General Andrew J. Smith. Although the Federals retreated to Memphis after the battle, it was a Federal victory: Forrest was not able to interfere with Sherman's Georgia campaign.