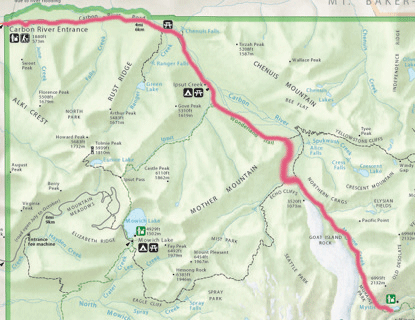 Trail Description:

Distance, round-trip:

20.8 miles

Elevation gain:

3900 feet

Hiking time, round-trip:

9 hours

Wilderness camps:

Ipsut Creek, Carbon River, Dick Creek, Mystic Lake

td>

Visiting Professors J. B. Fleet and H. H. Garretson named Mystic Lake after reportedly seeing a mysterious whirlpool near the lake's outlet.




Hike 5 miles along Carbon River Road to Ipsut Campground. From there, follow the Wonderland Trail 1.7 miles to a log bridge crossing over the Carbon River, continuing on to the Northern Loop trail junction. Turn right at the junction and hike up to the Carbon Glacier. Continue along the Wonderland Trail up a steep series of switchbacks through the forest to reach Moraine Park. Beyond the park the trail climbs up and down over two small wooded ridges. After climbing the second ridge, the trail descends a short distance to Mystic Lake.


Along the Trail:


This trail offers hikers a close-up look at the terminus of the Carbon Glacier, the lowest elevation glacier in the contiguous 48 states. From Moraine Park the views of Mount Rainier's precipitous north side are spectacular! Marmots, pikas, and wildflowers abound in Moraine Park. The calm waters of Mystic Lake capture picture-perfect reflections of Mount Rainier, particularly in the evening and early morning.



Backpacking:


In an effort to preserve the shoreline of Mystic Lake, the camp is located along the Wonderland Trail in a forested area .3 mile downhill from the east end of the lake. The Mystic Lake Patrol Cabin is generally staffed by a ranger all summer, though not necessarily every day. Permits are required for camping. Permits and current trail conditions are available at park-wide from wilderness information centers, ranger stations, and visitor centers. Treat water before drinking. Fires are prohibited. No pets on trails.
Wilderness Permit

Reserve your Wilderness Permit for backcountry camping and climbing. Read More

Trail Conditions

Planning a trip into the Mount Rainier backcountry? Find out what the trails are like before you go. Read More

Visit Mount Rainier: Carbon & Mowich

Carbon and Mowich are located in the park's northwest corner Read More