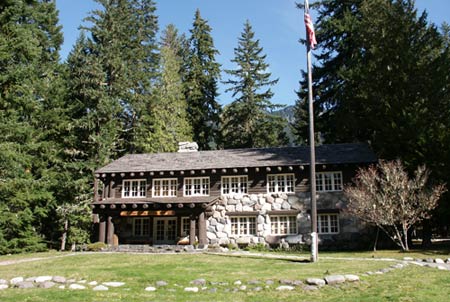 NPS Photo
With the establishment of Mount Rainier National Park in 1899, Longmire became park headquarters. The site had previously served as James Longmire's homestead, lodging, and mineral springs resort. Although park headquarters are no longer at Longmire, the original 1916 headquarters building houses a museum that tells the story of the early days of the park. Across the street from the museum, the "newer" Longmire Administration Building completed in 1930 still holds offices for park staff and is home to the Longmire Wilderness Information Center (current park administration offices are located at Tahoma Woods, outside of the park along SR 706). All of Longmire is now designated a national historic district.

Longmire is located in the southwest corner of the park and is 6.5 miles (10.5 km) east of the Nisqually Entrance. See the Road Status page for current information about road access to Longmire and other park areas.
Watch Visit Longmire: Gateway to Mount Rainier for a short video introduction to the Longmire area.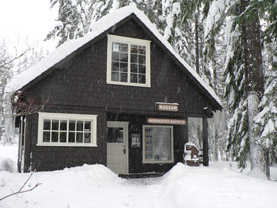 NPS Photo
---
Services
See Operating Hours and Seasons for updated information about these facilities:
The
Longmire Museum
, usually open daily all year, offers exhibits, information, and books sales.
The Wilderness Information Center, usually open daily from late May to early October and closed in winter, is where visitors can obtain wilderness permits and hiking and backcountry camping information. (In winter, visitors can obtain climbing and wilderness permits at the Longmire Museum.)
The National Park Inn, a concessioner-operated hotel, restaurant and gift shop, is usually open daily, all year.
---
Camping
Cougar Rock Campground and picnic area, 2 miles (3.2 km) east of Longmire, is usually open from late May to early October.
---
Roadside Attractions
Westside Road - Begins 1 mile (1.6 km) east of Nisqually Entrance. Road closed to vehicles beyond the gate, but accessible for biking and walking.
Christine Falls - Located 4 miles (6.4 km) east of Longmire, a short walk from the pullout offers a classic view of the falls below the rustic stone bridge. Be aware that parking is limited. For your safety, do not walk or stop your car on the bridge.
Glacier Bridge - 5 miles (8 km) from Longmire heading towards Paradise, look up the valley when crossing the bridge for a view of the Nisqually Glacier.
Ricksecker Point Road - This one-way road begins 6 miles (9.7 km) east of Longmire and offers fantastic views of Mount Rainier, Nisqually Valley and the Tatoosh Range. (The Ricksecker Point Road is open summers only.)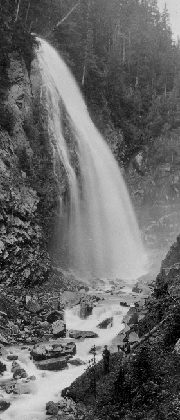 NPS Photo
---
Hiking
Historic District Walking Tour (self-guided)
Observe the excellent examples of classic National Park Service rustic architecture found at Longmire.
Trail of the Shadows (0.7 mi/1.1 km)
An easy walk past one of the park's earliest homesteads, the Longmire hot springs, and through the surrounding forest.
Twin Firs Trail (0.4 mi/0.6 km)
Beginning 2 miles (3.2 km) west of Longmire, a short loop trail through old-growth forest.
Carter Falls Trail (2 mi/3.2 km)
Begins 0.1 miles (0.2 km) below Cougar Rock Campgrounds. An easy old-growth forest walk along the Paradise River. Walk past Carter Falls another 150 feet (45.7 m) to see Madcap Falls.

Rampart Ridge Trail (4.6 mi/7.4 km)
Branching off from the Trail of the Shadows trail, this steep loop trail offers excellent views of Mount Rainier and Nisqually Valley.

Narada Falls Trail (9 mi/14.5 km)
Follow the Nisqually River via the Wonderland Trail from Longmire, along this cool forest trail. En route to Narada Falls you will pass Carter and Madcap Falls.
Eagle Peak Trail (7 mi/11.3 km)
A steep trail through old-growth forest with great views of Mount Rainier, Nisqually Glacier, and the Tatoosh Range. Trailhead found across the bridge at Longmire on east side of Nisqually river.
Enjoy other day hikes in the Longmire area.

Visit Mount Rainier: Ohanapecosh

Located in the southeast corner of the park and named for an Indian... Read More

Take a Hike!

Trails - Long or short, difficult and easy, Mount Rainier has them all. Here is a list of trails with maps and milages. Read More

Visit Mount Rainier: Carbon & Mowich

Carbon and Mowich are located in the park's northwest corner Read More