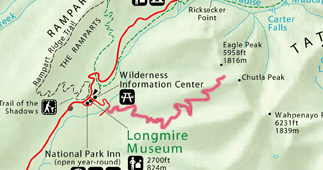 Trail Description:




Distance, round-trip:

7.2 miles

Elevation gain:

2955 feet

Hiking time, round-trip:

5 hours

Wilderness camps:

None

td>

This peak was originally known as Sim-layshe, a Native American word for eagle. When the Longmire family settled nearby, George Longmire anglicized the name to Eagle Peak.

From the National Park Inn, drive past the building with the flagpole, through the employee housing area and across a suspension bridge. The trailhead is located 300 feet past the suspension bridge.


For the first two miles the trail ascends steeply through dense forest to a small stream, then continues another mile to a meadow. Beyond the meadow the trail is much steeper and rocky as it climbs the final .5 mile to the 5700 ft. saddle where the trail ends. Use extreme caution when you reach the saddle. This area is exposed and a fall could be deadly.



Along the
Trail:


Most of the trail lies in old growth forest. Lush subalpine flower fields surround the last .5 mile of the trail. Panoramic views await hikers who reaches Eagle Peak Saddle.


Backpacking:


There is no designated camp along this trail nor atop the Tatoosh Range. Current trail conditions are available park-wide from wilderness information centers, ranger stations, and visitor centers. Fires are prohibited. No pets on trails. Treat water before drinking.
Wilderness Permit

Reserve your Wilderness Permit for backcountry camping and climbing. Read More

Trail Conditions

Planning a trip into the Mount Rainier backcountry? Find out what the trails are like before you go. Read More

Visit Mount Rainier: Longmire

Longmire is located in the southwest corner of the park and is renowned for its historic "NPS Rustic" architecture... Read More