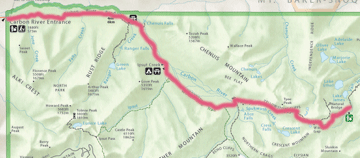 Trail Description:

Windy Gap

Lake James

Distance, round-trip:

19 miles

22 miles

Elevation gain:

3450 feet

Hiking time, round-trip:

7 hours

9 hours

Wilderness camps:

Yellowstone Cliffs

Yellowstone Cliffs, Lake James

td>

Lake James was named by The Mountaineers in 1912 as a tribute to Park Ranger Thomas O'Farrell whose son was named James.




Hike the Carbon River road 5 miles to Ipsut Creek Campground, then follow the Wonderland Trail 2 miles to the Northern Loop trail junction. Cross the Carbon River on a log bridge and turn left at another junction on the far side of the river. The trail soon begins a steep climb up numerous switchbacks through open, dry forest until finally reaching the subalpine meadows at Yellowstone Cliffs. From here the trail climbs for an additional one mile before it enters the beautiful, boulder-strewn meadows of Windy Gap. Beyond the gap, the route descends 1.5 miles to Lake James and the forest below.


Along the Trail:


Mountain goats frequent the Tyee Peak and Crescent Mountain areas near Windy Gap. Binoculars are recommended. Follow the short spur trail known as the Independence Ridge Trail (the junction can be found approximately one mile west of Windy Gap) to a rock arch formation called Natural Bridge.



Backpacking:


There are trailside camps at Yellowstone Cliffs, located 10.8 miles from the entrance, and at Lake James Ranger Cabin, 13.5 miles from the entrance. Permits are required for camping. Permits and current trail conditions are available park-wide from wilderness information centers, ranger stations, and visitor centers. Fires are prohibited. No pets on trails. Treat water before drinking.
Wilderness Permit

Reserve your Wilderness Permit for backcountry camping and climbing. Read More

Trail Conditions

Planning a trip into the Mount Rainier backcountry? Find out what the trails are like before you go. Read More

Visit Mount Rainier: Carbon & Mowich

Carbon and Mowich are located in the park's northwest corner Read More