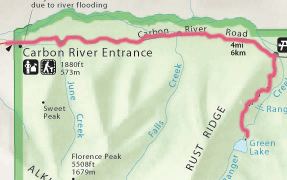 Trail Description:

Distance, round-trip:

10.8 miles

Elevation gain:

1000 feet

Hiking time, round-trip:

4.5 hours

Wilderness camps:

No

td>

Green Lake is one of the park's most serene mountain lakes. It is surrounded by forest but offers partial views to the south of Tolmie Park.





The trail begins at Carbon River entrance. 3.6 miles in, the Green Lakes trail leaves the road at Ranger Creek. The trail leads through a forest of massive old-growth trees on its moderate ascent to the lake. One mile from the trailhead is Ranger Falls. Beyond the falls the trail ascends another .8 mile to Green Lake.


Along the
Trail:


Eight hundred year-old Douglas fir trees can be found along the route to Ranger Falls.



Backpacking:


Camping is not permitted due to the lake's popularity with day hikers and its proximity to the trail. Current trail conditions are available park-wide from wilderness information centers, ranger stations, and visitor centers. Fires are prohibited. No pets on trails. Treat water before drinking.
Wilderness Permit

Reserve your Wilderness Permit for backcountry camping and climbing. Read More

Trail Conditions

Planning a trip into the Mount Rainier backcountry? Find out what the trails are like before you go. Read More

Visit Mount Rainier: Carbon & Mowich

Carbon and Mowich are located in the park's northwest corner Read More