Lower speed limits are temporarily in effect until road damage can be repaired

The Superintendent has temporarily reduced the posted speed limit from 55 mph to 45 mph on all roads within the preserve as road crews work to repair damage from recent heavy rains. Call 760 252-6108 for more information.
Watch for storm damage on all roads

Recent storms have caused flash flooding and damage to roads. Reduce speed and use caution when traveling through the park after storms. Call 760-252-6100 or 760-252-6108 for updates. Check our Current Conditions page for information on specific roads. More »
Mojave Road 4-Wheel Drive Route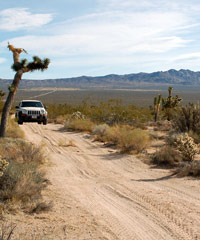 The country, as a whole, seemed a vast volcanic desert-of mountains, canyons, and mesas- and what it was ever made for, except to excite wonder and astonishment, is a mystery to the passing traveler...Water was found only at distances of ten and twenty miles apart...
J.F. Rusling describes his 1866 trip on the Mojave Road in Across America
---
The Mojave Road is an east-west route that enters the park near Piute Spring on the east side and on Soda Dry Lake near Zzyzx on the west. Some sections are rough and sandy; 4 x 4 recommended. Roads can become slick, muddy and impassable after rains. Be sure to inquire about road conditions, especially if you plan to cross Soda Dry Lake.
Used by Indians to transport goods from the southwest to trade with the Chumash and other coatal tribes, this route later served the cause of westward expansion. Military forts were established along the route to protect key water sources and provide assistance for travelers. Today it is a popular four-wheel drive road.


The Mojave Road Guide by Dennis Casebier provides mile-by-mile descriptions of the road. It is available from park information centers or by mail from Western National Parks Association.
All vehicles operating within Mojave National Preserve must be street-legal in accordance with California DMV requirements. This includes current registration and tags, lights and turn signals, and valid insurance. California "Green Sticker" and "Red Sticker" programs are not recognized with the preserve.
Not all roads are shown on all maps; traces and illegal shortcuts add to the confusion. Travel only on existing, open roads and not cross-country. Creation of new routes and driving in washes are not permitted.
Did You Know?

Creosote bush dominates the Mojave Desert landscape, growing on about seventy percent of Mojave Desert lands.