Kelso Depot Visitor Center hours

Kelso Depot Visitor Center is open Fridays through Tuesdays from 9 am to 5 pm, closed Wednesdays and Thursdays. The Beanery Lunch Counter is closed.
Watch for storm damage on all roads

Recent storms have caused flash flooding and damage to roads. Reduce speed and use caution when traveling through the park after storms. Call 760-252-6100 or 760-252-6108 for updates. Check our Current Conditions page for information on specific roads. More »
Camping: Guidelines & Regulations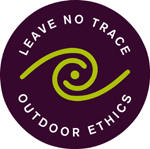 www.lnt.org
Backcountry travelers and campers should adhere to National Park Service regulations and are further encouraged to follow Leave No Trace guidelines to minimize their impact on the fragile desert environment. Additional regulations apply to roadside campers and those traveling with horses and/or other pack animals.
While pets are welcome as travel and camping companions in Mojave National Preserve, they must be leashed and never left unattended (including inside vehicles). Pet excrement must be collected and disposed of in garbage receptacles.
Leave No Trace (LNT) is rooted in scientific studies and common sense. The message is framed under seven Leave No Trace Principles presented below with accompanying regulations specific to Mojave National Preserve:
1. Plan Ahead and Prepare
There is no permit or registration system for backcountry travel & camping at Mojave National Preserve; be sure to notify others of your travel itinerary.
Few established trails exist; carry a good map and familiarize yourself with desert travel and survival skills before beginning your trip.
2. Travel and Camp on Durable Surfaces
Reuse existing campsites (required for roadside camping).
Do not make camp in a dry wash—flash floods develop quickly in the desert.
Camping is limited to a maximum of 14 consecutive days per visit/stay and 30 total days per year.
Campsites must be more than 200 yards from any water source.
Camping is not permitted: within 1/4 mile of any paved road or the Zzyzx Road; within 1/2 mile of Fort Piute or Kelso Depot; within 1 mile north (i.e., the crest of the dunes) or 1/4 mile south of the Kelso Dunes access road.
3. Dispose of Waste Properly
Store all food and garbage in a manner that will prevent access by wildlife. Carry plastic bags and pack out all trash.
Bury human waste in catholes 6-8 inches deep, at least 200 feet from water, camp, and trails. Don't bury toilet paper or hygiene products - carry a plastic bag and pack it out.
Pet excrement must be collected and disposed of in garbage receptacles.
4. Leave What You Find
Disturbing, defacing, or collecting plants, animals, rocks, and historic or archeological objects is prohibited. As part of our national heritage, these resources should be left as they are found for all to enjoy. Metal detectors are not allowed.
5. Minimize Campfire Impacts
Campfires are allowed in established fire rings only, or with use of a portable firepan (be sure to pack out ashes). Do not leave fires smoldering or unattended.
Cutting or collecting any wood, including downed wood, is prohibited. All firewood must be brought into the preserve.
6. Respect Wildlife
7. Be Considerate of Other Visitors
This copyrighted information has been reprinted with permission from the Leave No Trace Center for Outdoor Ethics. For more information or materials, please visit www.LNT.org or call 303-442-8222.
Did You Know?

The venom of the Mojave rattlesnake is extremely toxic and causes more respiratory distress than that of any other North American rattlesnake. Due to its unique hue, it is known locally as the Mojave green.