Getting Around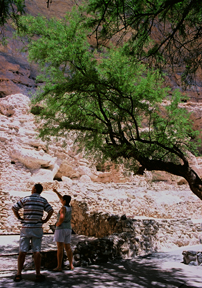 NPS
An easy 1/3 mile trail takes you through a glade of white-barked Arizona sycamores to the base of one of the best-preserved cliff dwellings in North America. Take your time as you stroll the paved sidewalk past the 900 year old legacy of the ancient Sinagua culture. The towering trees provide welcome shade during the hot summer months as well as valuable habitat for hundreds of native plants and animals. Rock squirrels, songbirds and lizards are easily spotted along the trails, even during the hottest parts of the day.
Exploring
Montezuma Well
along a 1/2-mile paved trail is an experience you aren't soon to forget. This unique geological feature is home to creatures found nowhere else on the planet. The presence of so much warm, fresh water provides an oasis for a wide variety of wildlife, including mammals (muskrat, ringtail, rock squirrels, white-tail deer), over 100 species of birds, snakes, lizards, and a tremendous assortment of
insects, arachnids and amphipods
. This rich ecosystem was also the reason why people have chosen to make this their home for over 1,000 years. Ancient cliff dwellings, pueblo ruins and pithouses can all be seen within and around Montezuma Well.


Did You Know?

This hummingbird nest at Montezuma Well National Monument is about the size of a walnut. It represents one of over 165 species of birds found at this oasis in the middle of Central Arizona. More...