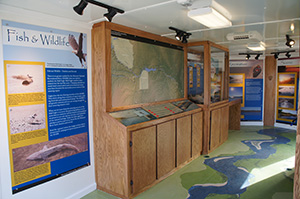 NPS photo
Mobile Ranger Station
This visitor center on wheels travels throughout the river corridor and to local communities. Go to our Ranger Programs page for a schedule.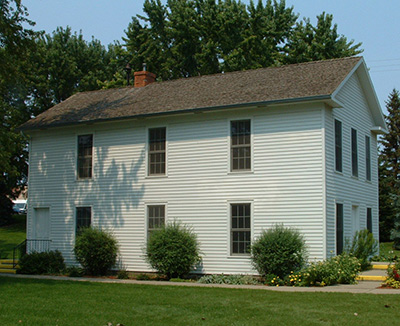 NPS photo
Dakota Territorial Capitol replica
Conveniently located in Yankton's Riverside Park and open Monday-Friday from the first week of June through late August. Special exhibits and kids' activities change weekly.
Partner Sites
Missouri National Recreational River interpretive staff work in partnership with the Nebraska state parks and U S Army Corps of Engineers visitor centers to provide visitor information and present special events. These facilities contain information and exhibits on Missouri National Recreational River. In 2008 the park moved into its first dedicated headquarters building just off the riverfront in Yankton, South Dakota. Information about the park is also available at this facility.

Missouri National Recreational River Education and Resource Center
(402/755-2284) is located in Nebraska's Ponca State Park, about three miles north of the town of Ponca. The state park is at the eastern edge of the 59-mile reach of the national park and is an excellent place to begin your visit to the river.
Inside the visitor center is the Missouri National Recreational River Educational Center with exhibits on the early American Indian inhabitants of the area, steamboat era, river ecology and prehistoric natural history.
MNRR has wayside exhibits at the Three State Overlook and along the river access.
Niobrara State Park
This facility located in Nebraska has a small visitor center and an interpretive kiosk. The state park is on state route 12 about two miles west of the town of Niobrara and is near the eastern end of the 39-mile reach of the national park at the confluence of the Niobrara River. To contact the state park directly call: 402-857-3373
MNRR has interpretive exhibits throughout the park on the ecology of the Niobrara and Missouri Rivers and on the Lewis and Clark Expedition.
Lewis and Clark Visitor Center
Staffed by Army Corps of Engineers rangers, the visitor center is located on Nebraska Highway 121 slightly more than four miles west of US 81. (Directions) The building overlooks Gavins Point Dam, Lewis and Clark Lake and a portion of the 59-mile reach of the National Park. To contact the center directly: call 402-667-2546.
Missouri National Recreational River (MNRR) has wayside exhibits outside the visitor center at the Gavins Point Dam/Calumet Bluff overlook.
Inside the Visitor Center there is a 3D map display along with interpretive exhibits about Lewis and Clark's speech to the Yankton Sioux, historic replicas, and interactive exhibits for the whole family.