Brochures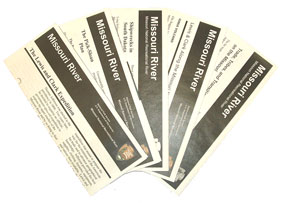 Welcome To Our Brochure Rack!
You will find most of the park brochures and information bulletins we have available to visitors.

The free Adobe Acrobat Reader is required for viewing. For best results, we suggest that you download the file to your computer before viewing or printing.


Cultural History
Natural Resources
Kids' Stuff
Visit our "For Kids" pages for puzzles and Junior Ranger Activity Books
General
Brief history of the National Park Service
Park Newsletters
"Current News" - MNRR Resource Management Newsletter

Vol 1 Number 1
In this issue - Mass Movement Along the Missouri River, What is the Wild and Scenic Rivers Act? At Risk: Least Terns and Piping Plovers On The Niobrara River, Meridian Bridge History, Volunteers Promote Native Plants, Northern Leopard Frog, Oral History Project

Vol 1 Number 2
In this issue - Flood Response Monitoring at Bow Creek, Flood Photopoints, Flood Waters and Weeds: Friends or Foes? Trash talk: Cleaning Up the Missouri, Invading the Classroom: Using Invasive Species To Teach, Realities of Early Steamboat Travel
"Undercurrents" - MNRR Division of Interpretation Newsletter

Undercurrents 2009.0 (2.3 MB) - In this issue: Chief Ranger Retires, Under the Meridian Bridge, Doing Your Part: Leave No Trace Ethics, Bow Creek Recreation Area Open To Public, Chief Standing Bear, Resource Manager Heads West
Undercurrents 2008.3 (1.8 MB) - In this issue: Superintendent Takes The Helm On The Big Muddy, Protecting Your Rivers, Grant Marsh: Master of the Big Muddy, Park Offices To Move, Seven principles Of Leave No Trace


Did You Know?

The "Yellow Stone," a steamboat belonging the John Jacob Astor's American Fur Company, was the first steamship to ascend the "Big Muddy" into what would become the Dakota Territory and eventually the present-day Dakotas and Montana. More...