Riverside Park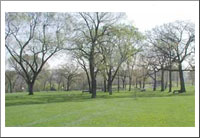 Overview
There are several parks named "Riverside Park" within the Mississippi National River and Recreation Area corridor. The one featured here is in Minneapolis not too far from the downtown area. Riverside Park is a neighborhood park with something for everyone. The park has a nice view of the Mississippi Gorge and a large grassy area. Also look for summer programs called Summer Playground, running from June 18th to August 24th.
Activities: Picnicking, biking, hiking, softball, basketball, playground, wading pool, tennis courts, volleyball, and a 1.6 acre dog park (permit required).
Hours: 12:00 noon to 8:00 p.m., unless otherwise posted.
Contact Information: Call the Minneapolis Park and Recreation Board at (612) 230-6400.
Did You Know?

The river is so shallow at Lake Itasca that children can walk across the Mississippi.  Between Governor Nicholls Wharf and Algiers Point in New Orleans, the Mississippi is more than 200 feet deep.