Your Safety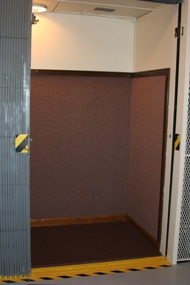 NPS
Due to restrictions on elevator size, for safety purposes we can only take six people at a time into the underground Launch Control Center at Delta-01. Please read our tour safety message to learn more!
Due to the need for enhanced security measures, employee safety, and visitor protection NO bags (backpacks, camera bags, diaper bags, purses/handbags, etc.) are allowed inside Delta-01.
Tours will be cancelled if on-duty staff determine road conditions to Delta-01 or Delta-09 are unsafe due to weather conditions.
Your personal safety is our number one priority at Minuteman Missile!
Did You Know?

South Dakota's Minuteman Missile field covered 13,500 square miles. That area is larger then the state of Maryland.