Underground Launch Control Center Tours: Suspended

There will be no underground Delta-01 Launch Control Center tours until further notice due to emergency elevator maintenance. Above ground tours will be offered along with an 11 minute video of the Launch Center in place of going underground.
Contact Us
By Mail
Minuteman Missile NHS
21280 SD Hwy 240
Philip, SD 57567

By Phone
Visitor Information
605-433-5552
To Speak With A Ranger: Option 0

By Fax
605-433-5558
By Email
e-mail us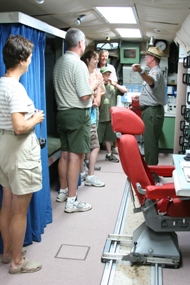 Visitor Feedback
The coming years at Minuteman Missile will bring a visitor center, more tours and additional services. We want to hear your ideas and thoughts. Please let us know what kind of new exhibits you would like to see or any ideas you might have to improve current operations. Submit your ideas by clicking here to e-mail us.


Did You Know?

A Minuteman Missile can strike a target up to 6,300 miles away in the time it takes to watch an average television sitcom, 30 minutes.