Plan Your Visit
Minuteman Missile National Historic Site is the only unit of the National Park Service devoted to Cold War history! The site's visitor contact station is the starting point for all ranger-guided tours of Delta-01, a Cold War-era Launch Control Facility which controlled the operation of ten Minuteman II nuclear missiles for almost 30 years. The contact station also includes exhibits and artifacts, as well as a brief orientation video that places the Minuteman missile system in the historic context of the Cold War. The visitor contact station is located south of I-90, off Exit 131 and shares a parking lot with the adjacent Conoco gas station.
Ranger-guided tours of Delta-01 are available year-round. Tickets are free, and are issued at the contact station on a first come, first served basis. Each tour is limited to six people due to the size of the elevator. Tours are conducted throughout the day and last 30 minutes and include an above ground tour of the Launch Control Facility, as well as a trip 31 feet underground to the Launch Control Center!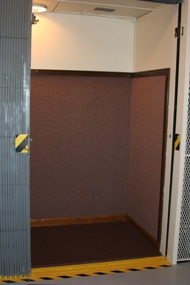 Elevator at Delta-01
Delta-09, a missile silo site housing a Minuteman II training missile, can be explored on your own daily from 8 AM to 4:00 PM. A self-guided cell phone tour is available May through October. Delta-09 is located off I-90 at Exit 116, and is a great option if time is limited or tours of the Launch Control Facility are full.

Did You Know?

Minuteman Missile National Historic Site is one of the United States' newest 
National Park Service units. It was designated in 1999 and became the 379th
NPS unit (there are currently 395).