Visitor Center Museum Closed During Construction Project

The museum at the Henry Hill Visitor Center is closed due to the installation of a fire protection system in the exhibit area. The visitor center and gift shop remain open daily and the park film is shown hourly. More »
Things To Do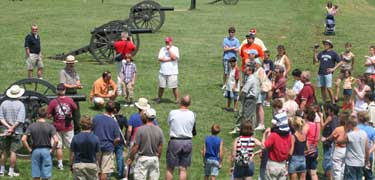 NPS photo
If you have 1-2 hours to visit:
Explore the museum and see displays of civil war era uniforms, weapons and field gear.
Play with the electronic battle map for a quick overview of field strategy and tactics.
See the park's 45 minute orientation film Manassas: End of Innocence which is shown on the hour in the Visitors Center theatre.
Browse the bookstore.
Take the self-guided 1 mile Henry Hill Loop Trail.
Get your picture taken at the Jackson statue.
If you have more time, try one of the following:
Buy an audio CD and follow the Second Manassas driving tour.
Join a Park Ranger for a guided hike.
Take a self-guided hike on one of the many interpretive loop trails: Stone Bridge, Matthews Hill, Brawner Farm, Deep Cut, Unfinished Railroad or Chinn Ridge.


Did You Know?

Confederate troops destroyed the Stone Bridge over Bull Run in March 1862 before falling back to a more defensible position fifty miles to the south near Fredericksburg. The current structure was completed in the 1880s, on the site of the war-time bridge.