Visitor Center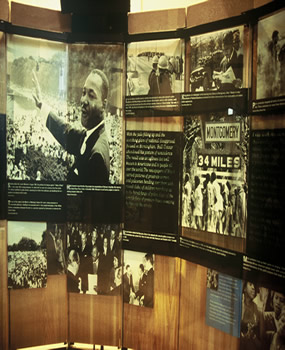 A staffed Information Desk is located just inside the front doors of the National Park Service Visitor Center. This is the place to stop for a brief orientation to the historic site, which facilities are open, how to sign up for a Birth Home tour, and where the nearest restroom is.
Located in the lobby of the Visitor Center is the "Children of Courage" exhibit, which is geared towards our younger visitors. This exhibit tells the story about the children of the Civil Rights Movement with a challenge to our youth today.
While in the Visitor Center don't miss the featured exhibit entitled "Courage To Lead" which follows the parallel paths of Dr. Martin Luther King, Jr., and the Civil Rights Movement. Also, walk down "Freedom Road".
Video programs are presented in the Visitor Center Theater on a continuing basis.
Did You Know?

Ebenezer Baptist Church's most famous member, Martin Luther King, Jr., was baptized as a child in the church. After giving a trial sermon to the congregation at Ebenezer at the age of 19 Martin was ordained as a minister. In 1960 Dr. King, Jr. became a co-pastor of Ebenezer with his father.