Delayed Opening

Due to inclement weather and hazardous driving conditions, the park and all its facilities will open at 10:00am today, February 14, 2014.
D.R.E.A.M. Gallery Exhibitions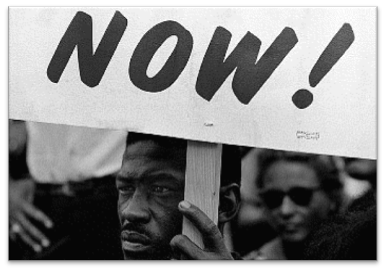 MINE EYES HAVE SEEN
The exhibition presently being featured in the D.R.E.A.M. Gallery of the National Park Service Visitor Center is "MINE EYES HAVE SEEN". This exhibition features photographs that capture the struggle of the twentieth century Civil Rights Movement and the delivery of Dr. Martin Luther King, Jr."s historic "I Have a Dream" speech. Bob Adelman used his love of photography to record this historic moment through the lens of his camera to present the Civil Rights Movement as a human rights story. This exhibit includes photographs, a replica of the Lincoln Memorial, and the reflecting pool.
Did You Know?

The Freedom Road exhibit is the National Historic Site's memorial to everyday people known as the "foot soldiers" of the Civil Rights Movement. Their willingness to stand before water hoses, risk police batons, and march was the force that led to the Movement's success.