Frequently Asked Questions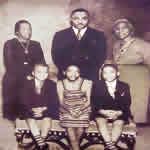 Frequently asked questions about:


Did You Know?

The King Center owns the Birth Home and the National Park Service maintains it. The King Family moved out of the Birth Home in 1941 and the house was then converted into a two-family dwelling. The Rev. A.D. Williams King, Dr. King's brother, lived on the second floor in the 1950's and early 1960's.