Delayed Opening

Due to inclement weather and hazardous driving conditions, the park and all its facilities will open at 10:00am today, February 14, 2014.
Frequently Asked Questions at the Martin Luther King, Jr. NHS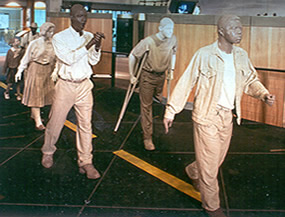 NPS Photo
1. Why was the park established?
The National Historic Site was established to commemorate Dr. King and his work.
2. When did this area become a National Historic Site?
Congress established the National Historic Site in October of 1980.
3. On what day is Dr. King's birthday celebrated as a national holiday?
Dr. King's birthday is celebrated on the third Monday in January. The first observance of the holiday was in 1986.
4. Where can I purchase postcards and film?
The Fire Station #6 bookstore, King Center and Park Service Visitor Center all carry postcards. The Ebenezer Church gift shop has film and disposable cameras.
Did You Know?

On April 4, 1968 Martin Luther King, Jr. was assassinated in the Lorraine Motel in Memphis, TN. Hundreds of thousands attended his funeral in Atlanta. President Johnson declared a day of national mourning. During the week following his death, riots erupted in over 100 cities.