Frequently Asked Questions at the Martin Luther King, Jr. NHS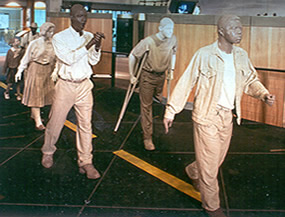 NPS Photo
1. Why was the park established?
The National Historic Site was established to commemorate Dr. King and his work.
2. When did this area become a National Historic Site?
Congress established the National Historic Site in October of 1980.
3. On what day is Dr. King's birthday celebrated as a national holiday?
Dr. King's birthday is celebrated on the third Monday in January. The first observance of the holiday was in 1986.
4. Where can I purchase postcards and film?
The Fire Station #6 bookstore, King Center and Park Service Visitor Center all carry postcards. The Ebenezer Church gift shop has film and disposable cameras.
Did You Know?

From the 1880s to the 1960s, a majority of American states enforced segregation through "Jim Crow" laws (so called after a black character in minstrel shows). From Delaware to California, and from North Dakota to Texas.