Maple Springs Group Campground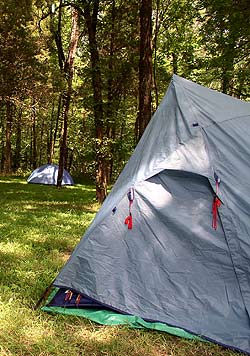 Maple Springs Group Campground will be closed from June 1 to August 31, 2013 during the Big Hollow Trail construction. We apologize for any inconvenience. The campground is expected to resume normal operation on September 1 through the remainder of its normal 2013 season, although this schedule is dependent upon the weather. Click here for more information about closures in the Maple Springs area related to the Big Hollow Trail construction.

---
Located 6 miles from the Visitor Center and 3 miles north of the Green River Ferry, this campground has 7 sites. Each site has multiple picnic tables and fire rings. chemical toilets, garbage dumpsters, and fresh water available.
Three of these sites are group sites with a 24-person limit, fee $30 per night per site.
Four of the Maple Springs sites are Equestrian sites with hitching posts and trailer parking, limit 8 horses/site. Two of these sites have water/eletric hook-ups, fee $30 per night per site. Two sites without hook-ups, fee $22 per night per site.
No discount for visitors with Golden Age/Golden Access or America the Beautiful Senior/Access Passports. No refunds. Reservations are required. Maple Springs Campground check-in time is 12 noon and check-out time is 11am.
---
FIREWOOD QUARANTINE: Firewood from a number of states is quarantined due to an insect infestation by one or more insect pests (e.g. the Emerald Ash Borer) that is devastating certain tree species. To prevent infestation of trees in the park, transport of firewood into the park is prohibited. You may pick up any dead or downed wood inside the park or purchase wood from the Caver's Camp Store located at the Service Center. Store hours vary with season; check bulletin board at kiosk for current hours. Please help protect our forests from these destructive pests and do not bring firewood into the Park.
---
Note:The most direct route from the Visitor Center to the Group Campground requires crossing the Green River Ferry. The ferry has a load limit of 8 tons. High or low water conditions may impede crossing, especially of motor homes or trailered units. The ferry is open 6 a.m. to 9:55 p.m. daily, except when repairs or hazardous river conditions prevent operation. For information on ferry status, you may call the Green River Ferry Information Line at (270)758-2166. An alternate route to the campground via state and county roads is 35 miles from the Visitor Center.
Did You Know?

Native Americans of the Early Woodland period gathered minerals from Mammoth Cave between 2,000 and 4,000 years ago ... no one knows why. Objects they left behind – slippers, cane torches, gourds, and mussel shells – remain perfectly preserved in the cave.