Contact Us
Mammoth Cave National Park
P.O. Box 7
1 Mammoth Cave Parkway
Mammoth Cave, KY 42259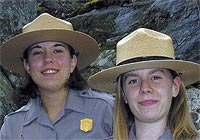 National Park Service rangers are on duty to ensure that your visit to your National Park is pleasant, safe, informative, and memorable, and that the natural and historic resources in the park are preserved for your enjoyment - and that of generations to come. Please do not hesitate to contact us with any question you have, or to inform us about issues concerning the welfare of the park, its inhabitants, and its visitors. You can reach us by any of the following:
Telephone: 270/758-2180
E-mail: e-mail us
ParkWatch line: 888/219-1599
(To report hazards or suspicious activity)
Mammoth Cave Ferry hotline: 270/758-2166
---
Park Staff & Offices

Did You Know?

Stalactites grow downward – they hang "tight" to the ceiling – while stalagmites grow upward – they "might" reach the ceiling someday. Mammoth Cave's formations include many types of calcite formations.