Starting Wednesday July 23rd Expect Road Closures

July 23rd, Prosper Trail, North Slope & Middle Pass Trails - west side of the park CLOSED for forestry operations. McKenzie Farm Trail & McKenzie Rd will remain open for access between Prosper Parking Lot and the Pogue. CAUTION Heavy Equipment in use!
Guided Rambles and Hikes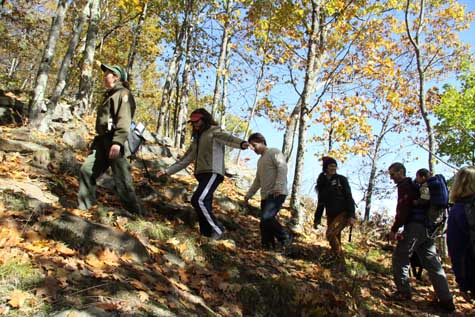 Donna Taylor Photography
June
through
October
the park offers the following guided hikes. All of these guided hikes are free. Please bring appropriate footwear, water, and insect repellant. Group size is limited, and reservations are recommended.
Contact the Carriage Barn Visitor Center for reservations: 802/457-3368 ext. 22.
Please check the
Schedule of Events
for specific dates/times.
Appalachian Trails and Tales
Extending from Maine to Georgia, the
Appalachian Trail
is one of the greatest examples of citizen stewardship. Join a ranger on a 3-hour hike to explore a section of the AT and the history that shaped this landscape. Meet at the Billings Farm & Museum Visitor Center. Moderate to Difficult, 3 miles.
Warblers, Woods, and Watersheds

Keeping tabs on the ecological conditions of the park (along with 11 other regional parks) is the mission of the
NPS Northeast Temperate Network
. Join NETN staff for this 2-hour hike to try your hand at the basics of monitoring birds, salamanders, forest health, and water quality. Meet at Prosper parking lot. Moderate, 3 miles.
The Future of the Forest
Join us for a hike exploring the history and
stewardship of the oldest professionally-managed forest
in the United States. During this 2-hour hike, see some of the most unique parts of the park and visits stands with active forestry. Meet at Prosper parking lot. Moderate, 3 miles.
Fall Foliage Walk
View vibrant autumn foliage in this 2-hour ranger-led walk along historic carriage roads while learning about the story of the Mount Tom Forest. Meet at the Carriage Barn Visitor Center. Easy, 2½ miles.
Did You Know?

Conservationist George Perkins Marsh, for whom Marsh-Billings-Rockefeller NHP is named, championed the creation of a US Army Camel Corps. On El Morro National Monument's Inscription Trail you can see the inscriptions the Camel Corps left behind in 1855.